By Berni Borsberry
With several teams having completed their season, it was still a free weekend for others.
But the highlights were the three girls' teams taking part in the Flamingo Land Tournament.
U13 & U14 Girls
Two teams travelled to the U14 Flamingo land Football Festival.
Aycliffe Angels and Aycliffe Saints were made up of players from our U13 team & U14 Sunday team.
A fantastic weekend of football saw both teams win their respective finals.
Angels won their final (East Coast Cup) 3-0 against a strong Middlesbrough Women Team and Saints won theirs (Yorkshire Cup) 2-0 against Rakers Rovers from Merseyside.
Great team spirit and fun through six matches each.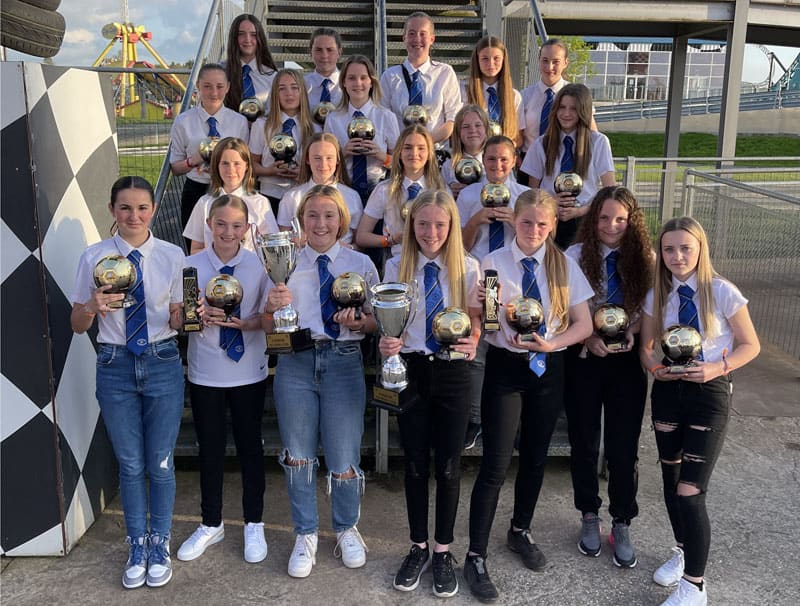 U12 Girls
The girls had been looking forward to this weekend for a long time, and it did not disappoint.
The team played some fantastic football on the pitch, and enjoyed every second spending time with each other off it.
The team came away from the tournament as Plate Winners beating Redcar in the final. Well done girls, and thanks for giving us all an unforgettable weekend
Beamish v U11 Wildcats
This is always a tough game against a Beamish side that are at the top end of the table. Aycliffe started brightly but just couldn't get their passing game going, but the effort was superb.
Unfortunately, within 15 mins the girls were 2-0 down. However, they worked their way back into the game through Mia just before half time.
Midway through the second half Aycliffe equalised when Phoebe scored from a Mia pass.
With only five minutes left Beamish scored to win the game 3-2.
Hebburn Sparks 2 v 2 U14 Eagles
A good game of football with some good link up play. The hot weather and only one sub took its toll in the second half but the boys battled to get a well-deserved point and could have had a winner as it was coming but we just ran out of time.
Goals from Oliver and Kaiden. Joint MOM between Ollie F and Kaiden.
Hurworth Albion 1 v 10 Newton Aycliffe Women
The game started quickly and Aycliffe took the lead after three minutes, Jess played a ball through for Kate who finished clinically.
The goals continued to flow and the women were in control as HT arrived 4-1 up.
The team moved up a gear in the second half and added another six goals.
Player of the match went to Bethany, she was the stand out player in the first half whilst as a team we weren't at our best, and continued with a solid performance in the second half, she never put a foot wrong all game, well done Bethany