As new investment commences into the future of Glow, on Aycliffe Business Park, Peter Barron talks to a man who's put his faith in a place that serves as a church as well as an events and conference venue…
Asked about the shaping of his Christian values, Ian Duffew smiles as he recalls a vivid childhood memory: "The bus stop outside our house when I was growing up…" he begins.
Ian goes on to recount how his parents, Malcolm and Margaret, would have compassion for anyone looking sad or lonely at the stop in Eston, on the outskirts of Middlesbrough.
"They'd take them a cup of tea, have a chat, and check they were OK – that's the kind of people they were," he says.
"Sometimes, there'd be people in tears, and my parents would show them kindness and love."
Decades on, it is those same principles that remain central to Ian's role as chair of Innovate, the business arm of Glow, a high-quality, purpose-built venue on Aycliffe Business Park that is both a popular church and a multi-faceted conference and events facility.
Ian's vision for Glow – formerly the Xcel Centre – is for it to be immersed in the community, to provide the best experience possible for those who use it for a wide variety of reasons, and be a safe, caring place for those who need extra support.
"The common denominator is love – but it's love with a purpose and to a high standard," says Ian.
Glow is part of an international Christian movement that was started in their own home, on the Australian Gold Coast, by Joel and Ellen Cave, and has seen the movement grow and expand to three churches in Australia, and plans for further growth in other key international locations.
Here in the UK, in 2010, the church financed the Aycliffe development on a brownfield site on Aycliffe's Long Tens Way.
It opened as the Xcel Centre, primarily as a church but with Innovate as its business arm, and was renamed Glow in 2021, with Andrew and Louise Cherrie as lead pastors.
Andrew and Louise returned to their hometown, having spent a decade growing a significant church in London.
Glow is becoming brighter, as a result of major investment in state-of-the-art equipment and audio-visual technology, notably an LED screen measuring 12 metres by 4.5 metres within a main auditorium that has a capacity to seat 1,000 people.
Ian took over as chair of the Innovate board at the start of this year, making good use of a wealth of business experience, combined with the Christian values he inherited from his mum and dad.
Malcolm was a welder and Margaret a florist, and the church always played a big part in the lives of Ian and his older sister, Christine. Initially, it was South Bank Baptist Church, followed by the Apostolic Church, at Thorntree, in Middlesbrough, where Ian met his future wife, and mother of their three children, Carolyn.
The couple were later part of the leadership team that set up a new church, called Amazing Grace, in an abandoned pub at Teesside Retail Park.
In the meantime, Ian built a successful career in human resources, rising to become HR manager of engineering company, Aker Kvaerner, and then HR director of DeepOcean UK, before launching his own management consultancy.
It was a career that included extensive UK travel and also took him around the world, but the lockdown years made him (and his wife) re-evaluate their lives and calling, and the result was a move to Aycliffe's Glow Church.
"We were ready for a new challenge, and we were moved by the vision to grow the church locally, nationally and internationally, along with a passion to have a positive influence on the community," explains Ian.
Having joined the congregation in 2021, Ian became a trustee and non-executive director of Innovate the following year, and then chair this year, helping to drive an ambitious programme of investment.
He can't resist smiling as he looks up at the giant new LED screen, in the spacious main auditorium, that helps make Glow a unique facility in the area.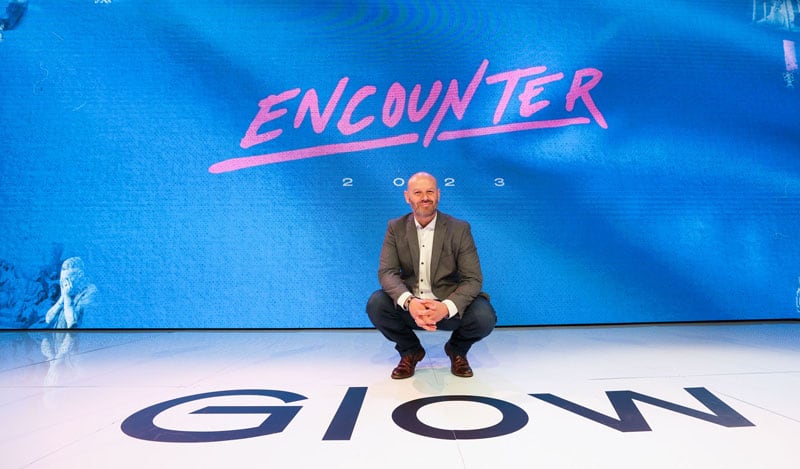 It comes with new sound, video, and lighting equipment, as well as an enhanced stage.
The centre also features a second auditorium (with capacity for 250 people), professional office space for meetings, comfortable rooms for private discussions, and ample free parking space.
There's also a modern coffee shop called Trio, which is open to the public six days a week.
"We believe we've got outstanding facilities, with outstanding support – and outstanding coffee!" says Ian.
"Whatever it is you need for an event, meeting, or activity – whether it's small and intimate, or up to 1,000 people, we can look after you.
"We want to make sure it's the best experience you will have for miles around at a very reasonable price, so that you want to come back.
"We've taken the decision this year to invest heavily in going up a level. We already had very good facilities, but we want to take it even further because there's demand for real high-end, high-tech conference facilities. There really is nothing else like this in the area, and it comes with world-class expertise, with several specialists on the payroll.
"We're working with large companies and SMEs, as well as local authorities, and a host of community organisations.
"We're passionate about the area, so my message is 'come and see what we can do for you.'"
Indeed, the community is catered for at every level. The 'Little Cubs' nursery is part of Glow Church, with more than 130 children on the books and over 30 staff on the payroll, and so popular there's a waiting list of 18 months.
Every Wednesday, there are "Stay and Play" sessions for parents and toddlers, and on Fridays, up to 70 youngsters attend a youth group to play games and have fun, while also learning life skills, and discussing challenging topics.
"When I was a kid, we had an amazing youth club at South Bank Baptist Church. That helped shape who I am, and that philosophy is what we've got here now at Glow," adds Ian.
There's also a bereavement support group; older, vulnerable people's group; older men's group; and fitness groups, as well as outreach work to spread the support deeper into the community.
"One thing that lockdown showed us is how lonely and isolated a lot of people are. Some people have no one in their lives and we feel it's our calling to reach out to them."
Examples of our outreach include Christmas hampers for prison officers in recognition of their contribution to society, and a fundraising campaign was launched after the start of the war in Ukraine.
The vision is to go on growing both the church and the business, and plans include the addition of a special needs sensory room.
Everything that happens at Glow is built around three words "real bold love" – and they sum up the values that were instilled into Ian by his parents. Both have now passed away, but their influence still guides him.
Real, bold love was what they were showing when they went out to people at the bus stop – and that's what's on offer at Glow a generation later.
• To find out more about events, meetings and activities, go to glowvenuehire.co.uk.
• To find out more about Glow Church, go to glowchurch.com/durham.