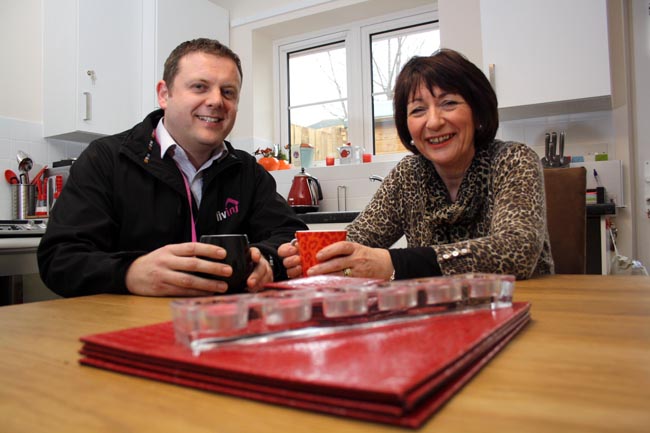 A couple from Newton Aycliffe are celebrating after moving into the first purpose-built bungalows by homes and communities organisation livin.
Mr and Mrs Reid applied for a new build bungalow after Mr Reid began suffering from arthritis resulting in him struggling to remain in the couples terraced home.
The bungalows which occupy a former under-used garage site involved investment of over £300,000 including funding from the Homes and Communities Agency.
Built in partnership with Southdale the bungalows have been designed specifically for older people and those with mobility problems.
Jeannie Reid, tenant, said: "Our bungalow has given us a new lease of life. Everything is so much more accessible.
"We can enjoy sitting in the beautiful garden and we can get Joe's mobility scooter out so he can go to the library and visit friends. The walk in shower has made life so much easier too."
Ian Brown, head of development and allocations for livin, said: "We received over 200 bids for the properties so we know this type of development is in high demand.
"We are making good progress with a number of new build developments in Newton Aycliffe and the wider communities and will continue to let properties to people in the most housing need."
The properties are part of a wider investment project by livin to build up to 350 new homes by March 2016.
The organisation has also recently commenced build on a 22 new home development on the former Greenfields site in Newton Aycliffe as well as sites in Ferryhill and Fishburn.
To find out more about the new build developments including how to apply for a home visit www.livin.co.uk
• Pictured above is Lee Barras, home choice advisor for livin, with Jeannie Reid in her new bungalow.