Newton Aycliffe Cricket Club is celebrating after finally opening a brand new changing facility – six years after first embarking on a fundraising campaign.
The amateur club, which plays in the NYSD League second division, first started talking about raising funds to build desperately needed dressing rooms at the club's ground, on Aycliffe Sports Club in Newton Aycliffe, in 2017.
Chairman Ian Palmer even walked the equivalent distance of Lands End to John O Groats to stump up enough cash to fund the development.
But after a huge team effort, involving donations and grants, the club has proudly unveiled its new £128,000 pavilion.
The new facility has been funded mainly by a £55,650 grant from the Veolia Environmental Trust's Landfill Communities Fund, and £62,803 via various community funding streams of Durham County Council.
"We first started talking about it in 2017. Then, having decided on a plan, we started to get costings for funding applications in 2019," explained Ian.
"Covid hit and lots of funding streams were redirected to cover recovery and related schemes, making funding difficult to find.
"But I persevered and, by March 2022, we had enough funding secured for it to go out to tender. The contract was placed in September 2022 and work started in the November, with it being fully completed in recent weeks."
Funds from Durham County Council was made up of grants from the Towns and Villages Fund (£25,000), the Section 106 Fund (£30,000) and from Neighbourhood Budget grants from local councillors Jim Atkinson and Nev Jones (£7,803).
Ian added: "Aycliffe Sports Club donated £1,499 and the remainder has been raised through fund raising, donations and club funds.
"We have also received support from local businesses, Palram who manufactured and donated some fencing for us, and Grass Direct who donated the artificial grass for the seating area.
"It's been a huge team effort and we're absolutely thrilled with the new facilities.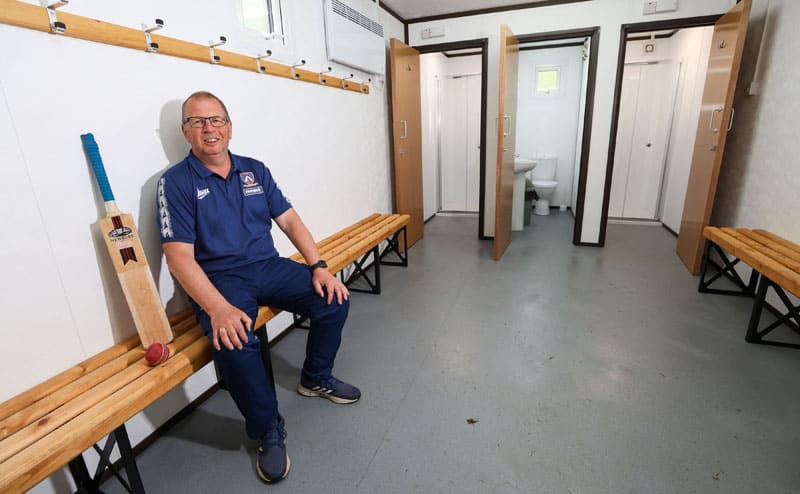 "It's all about working together with the different sections to do the best for the town and the club.
"The players are really impressed with them. Our old changing rooms had no running water, no toilet facilities, the floors were gone.
"These changing rooms have toilets, showers, state-of-the-art facilities, so they're over the moon.
And we've had positive comments from the NYSD League and opposition players."
The cricket club's developing facilities complement the town's football club's adjacent facilities, which are also undergoing further renovations after their promotion as Northern League champions this summer.
GAMP co-ordinator Brian Riley said: "It's been a fantastic effort by Ian Palmer and everyone at Aycliffe Cricket Club. It's been a big team effort and it's a brilliant facility for the years to come.
"Aycliffe Sports Club is just a fantastic facility for the town. We've funded the football team a couple of times, with the outdoor facility and a stand, and we'll support the football club in the future, especially with them winning promotion.
"It's just a wonderful facility for the public to use."
Labour councillor Jim Atkinson said: "It's another bit of Newton Aycliffe growing. A fantastic project.
"It's not an easy process for clubs to go through, but Ian Palmer and the club have bent over backwards to meet the demands of the process, to get the funding they've needed."
Lib Dem councillor Nev Jones added: "The amount of people who'll get the benefit of this facility now, thanks to Ian Palmer's hard work, and with the contribution from GAMP, Jim and myself.
"You often hear parents say there's nothing for kids to do in Newton Aycliffe, but there's lots of things for them to do.
"Both the football and cricket clubs down here have youth systems in place, they're bringing the kids through and it's just marvellous. It's a proper community club."
• Pictured top: Councillors Nev Jones and Jim Atkinson, Newton Aycliffe Cricket Club chairman Ian Palmer and GAMP Co-ordinator Brian Riley outside the new changing facilities. Picture by Chris Booth.
• Pictured middle: Newton Aycliffe Cricket Club chairman Ian Palmer enjoys the club's new changing facilities after a six-year fundraising campaign. Picture by Chris Booth.