By Ian Willis
Pictures by Chris Booth
When Paul Howell describes the last year as "a challenge", he knows he will probably be quickly installed as the bookies' favourites for the Understatement of the Year award.
After successfully wrestling the seat from Phil Wilson in the December 2019 elections, MP for Sedgefield Paul was just three months into his tenure when the pandemic hit – and all of a sudden the goalposts had changed.
But, with so much water under the bridge since then, Paul is now focused on playing his part in helping business throughout his constituency get back on their feet.
With his constituency office based in the heart of Aycliffe Business Park – at Sydney House, part of the former Newton Press buildings – the 61-year-old has 500 businesses and 10,000 employees on his doorstep and after a career spent in local manufacturing businesses he hopes to use that experience to understand and help these enterprises in his patch.
"It's been a challenge, put it that way," he responds when asked to sum up the last year.
"But I wouldn't swap it for the world. It's been an amazing opportunity and it is a privilege to represent these people. The tenacity and determination many of them have shown in such difficult times is testament to the type of people we are.
"It's been hard to speak to people directly, in the old fashioned face-to-face way, and we've all become reliant on talking to people on social media or Zoom calls.
"It's like a vicar being unable to get to his flock, and for that reason it is difficult to ascertain the general feeling of the business community. Some businesses have been unable to operate, others have diversified, and then some like 3M have found themselves incredibly busy. Each business, no matter the sector, has had its own challenges as a direct result of the pandemic.
"Some have praised the help they've had by having access to Government grants or furlough money, others who have missed out have a different perception.
And while he is keen to get his doors back open to speak to those in Aycliffe, he assures the rest of his constituency that they won't be left out.
"As we hopefully get back to some sort of normality, I'll do all I can to support all the businesses I represent. I'd ask people to remember whilst Aycliffe is beating heart, I have Sedgefield Net Park and businesses from Thornley in the north to Hurworth in the south to listen to as well. The range of locations and types of businesses is fantastic and inspirational but none more so than those on Aycliffe Industrial Park.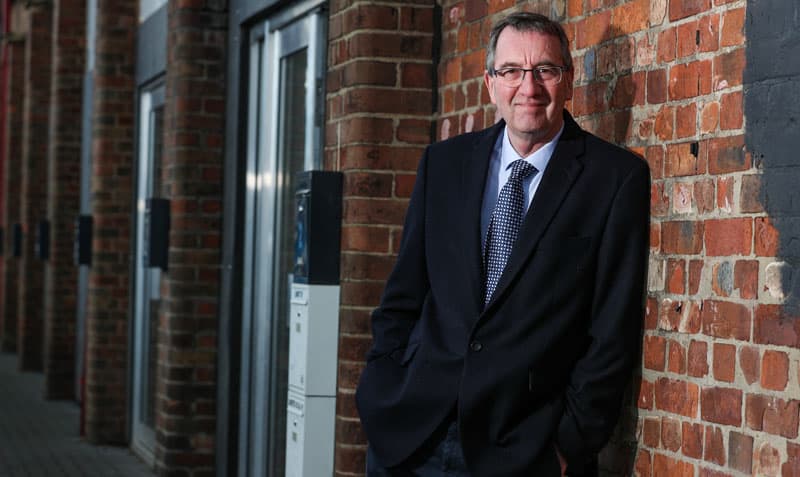 "I've always said that the best way to learn about a business is to go into it. That's what I'd like to do when regulations allow me to, and if any business would like a visit please get in touch and let's get these opportunities in the diary."
The Ferryhill-born Conservative is fiercely proud of his roots, and there is genuine excitement in his voice when pushed to give his thoughts on the recent good news about the freeport on Teesside and Treasury North moving to Darlington.
He went on: "I have to applaud the Tees Valley mayor, Ben Houchen, for the work he has done in bringing investment to the area. Not just the freeport news and the Treasury North, but the airport is another great example of a project he has delivered with.
"Ben has set up online briefings to open up the supply chain, it's not just about Teesside, it's about local. Opportunities are there for local businesses in our patch to get involved and become part of the supply chain.
"Don't just look at it and say 'it's Teesside, that's not for us'. You might not be a business that specialises in making wind turbines, but who puts the carpets down in their offices or make the bits that go into turbines etc? Think of the bigger picture, and let's seize these opportunities.
"Using platforms like Aycliffe Business and Aycliffe Today, I want to spread the word that there are some exciting openings for our businesses. I am passionate about the need to localise supply chains wherever possible and continually push ministers for more Buy British or Buy Local campaigns and am massively irritated when Governments or Local Authorities source elsewhere when they have choices."
While things are taking giant leaps forward on a local level, Paul's Conservative links have opened up a direct line of communication with the big guns in Whitehall ahead of major announcements being made.
"The opportunity to talk and engage with senior ministers and secretaries of state has been incredible and I will also be forming a business club which I would hope to get some of them to attend and hopefully get the opportunity for our business people to contact directly," he reveals.
"Well before the shortlist was announced for Treasury North and Darlington was on there with Leeds and Newcastle, myself and my colleagues were onto the chancellor to urge him to go for a town rather than a city. For that chosen town to be seven miles from Aycliffe is fantastic.
"Civil servants need to understand life outside of the city landscape. They're used to jumping on a train that runs every three minutes. They need to understand what it's like to wait for a half hourly bus, that may not come, basically to understand the difference in infrastructure.
"There will be 750 jobs coming up here, but not 750 people. There may be 150 move up, and the rest of the positions are for us. This will be an opportunity to get involved in a major department of state for the UK, working directly with senior decision makers right here on our doorstep in Darlington.
"It's just fantastic news, and again, we must seize the opportunity."
With the prospect of a better summer looming and light at the end of the tunnel getting closer, Paul is keen to get the message out for people to stay positive.
"We're coming out of it now, we've come so far over the last year and I fully understand the doom and gloom and concern about the economy collapsing," said Paul.
"I've spoken to JobCentre Plus and they're incredibly positive. They've placed a record number of clients into work. Yes, there's a reason why people are looking for work, but there are opportunities, particularly for those who can be flexible and try different options.
"Have a look at what opportunities are out there, look at the positives. If I had one message to get out there, it would be to keep the glass half full attitude, let's make sure we come out of the other side in a far stronger position."
Paul can be contacted via email at [email protected].