Martin Walker looks back on eight decades of Aycliffe Business Park…
Aycliffe Business Park emanates from World War II – with its original buildings, ammunitions factories, built in 1941.
The 867-acre group of buildings was named Royal Ordnance Factory 59 – one of several around the country – which were designed to manufacture bombs and bullets for the war effort.
The marshy location at Aycliffe was ideal, as the site was shrouded in fog and mist for much of the year providing cover against bombing by the Luftwaffe.
ROF 59, which was visited by then Prime Minister Winston Churchill, employed more than 17,000 people, mainly women, from the surrounding area, who risked their lives every day, filling shells and bullets and assembling detonators and fuses.
By its nature the work was very dangerous and many workers were killed and injured during the manufacturing process.
The people who worked there became known as the Aycliffe Angels after English Language propaganda broadcasts by Lord Haw Haw (William Joyce), a traitor who worked for the Nazis during World War II.
"The Little angels of Aycliffe won't get away with it," he had said in numerous broadcasts, highlighting the importance of their work, before insisting the Luftwaffe would bomb them into submission.
A permanent memorial was placed in Newton Aycliffe town centre commemorating the Aycliffe Angels' efforts, while there's a small museum within the Ineos factory on the business park.
After the war it was decided to turn the site into an industrial estate. Sixty firms set up there, and by August 1946 they employed some 6,000 workers, as the new town of Newton Aycliffe began to grow in the 1960s.
Since then – and particularly more recently – the business park's image as a place of heavy industry has very much evolved.
Its name – Aycliffe Industrial Estate – was replaced by the more modern Aycliffe Business Park a little over 10 years ago to reflect the changing face of the site.
While engineering and manufacturing remain at the core of Aycliffe Business Park, a number of new developments in recent years have brought dozens more SMEs from the services and leisure sectors to the park, creating a vibrant, busy employment hub and a wide variety of industries.
Desolate wasteland and crumbling buildings beyond repair have made way for bright new office blocks, now home to dozens of growing small businesses.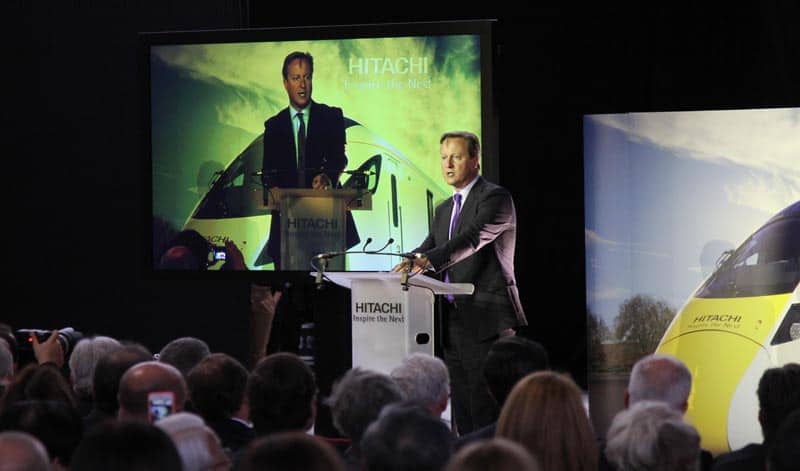 In September 2015, just over 70 years since the end of World War II, Hitachi Rail Europe's 21st Century, £82m factory was officially opened by the then Prime Minister David Cameron at Merchant Park on Aycliffe Business Park, bringing train building back to the nearby 'Cradle of the Railways' in Shildon, and just a few hundred yards away from Heighington station, where George Stephenson's Locomotion No.1 was assembled before embarking on the first passenger steam train route from Darlington to Stockton, in 1825.
Today, Aycliffe Business Park is the biggest single employment area in County Durham and one of the largest business parks in the UK.
Spread across 400 hectares, it is home to an estimated 500 companies and around 10,000 employees.
Some of the park's biggest employers include high-profile businesses such as Gestamp, Hitachi, 3M, Ineos, Husqvarna and PWS.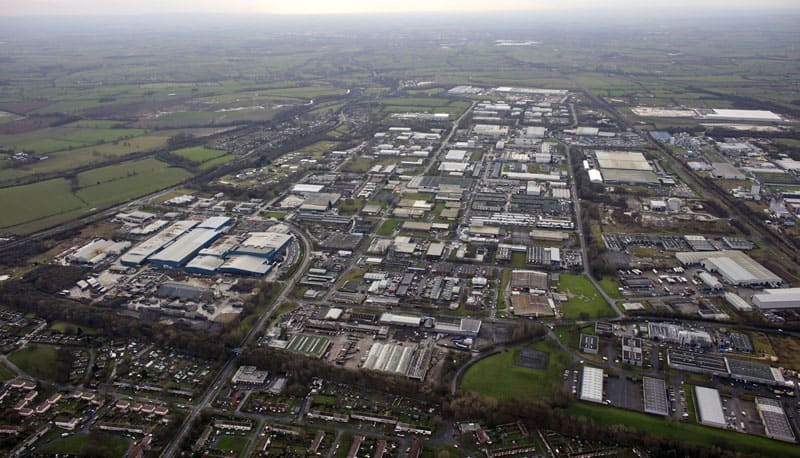 And the park just got bigger!
In recent months, the next phase of Merchant Park – the £4.8m Station Place – was officially opened, bringing 50,000 sq ft of high spec industrial units for existing local firms to expand into.
Despite all the recent challenges of Brexit, the pandemic and energy crisis – amidst the ongoing challenges of recruitment and supply issues many businesses are facing – most tenants across Aycliffe Business Park continue to not just survive, but thrive.
It would appear the future of Aycliffe Business Park couldn't be any more positive as we approach the park's 82nd birthday.