Newton Aycliffe's former town clerk has become only the fourth person to be made an Honorary Freeman of Newton Aycliffe.
During a presentation after a council meeting at Great Aycliffe Town Council's offices on Wednesday night, Andrew Bailey was officially handed the prestigious honour by the town's mayor, Sandra Haigh.
Mr Bailey retired in May after 32 years working for the council, the last 15 as the town's clerk.
He joins only three other people to have been given the accolade, which recognises long service and outstanding achievement.
"It is a fantastic honour and something I didn't expect or work for," Mr Bailey told Aycliffe Today.
"It just happened, and I'm really pleased to be included with the other three eminent people."
Bob Fleming was the last to have been given the Honorary Freeman of Aycliffe in 2015. Prior to that Eric White received the honour in 1995 and Don Vickers in 1983.
Mr Bailey was joined by his wife Linda and daughter Charlotte during Wednesday night's ceremony, which included heartfelt tributes from councillors Eddy Adam, Arun Chandran and John Clare.
"I didn't recognise myself some of the time!" joked Mr Bailey.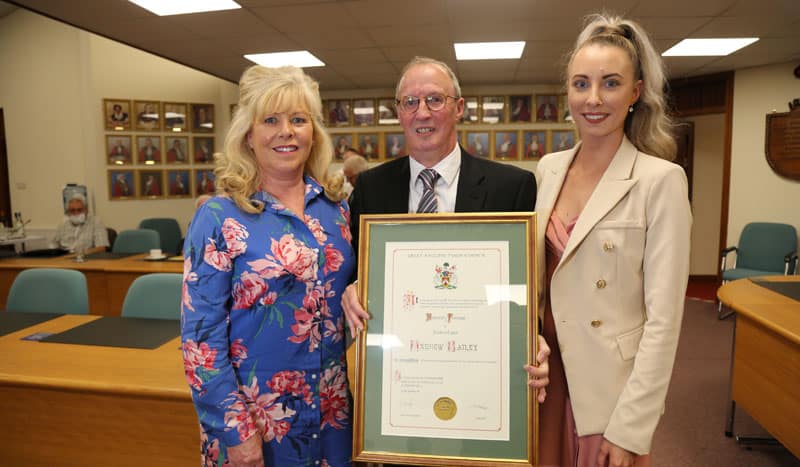 Andrew Bailey with his wife Linda and daughter Charlotte.
"You don't realise what you do and how much other people appreciate what you're doing at the time of doing a job.
"I'm not a person who looks for plaudits or pats on the back, I just get on doing what I'm paid to do.
"It was actually quite a shock when I was first told about it. I was going to ride off into the sunset, I wasn't expecting this at all."
During the presentation, Labour's new leader Eddy Adam, who had originally tabled the motion to honour the ex-town clerk, lead the tributes.
"He's truly an individual with real integrity, and has demonstrated a great devotion to his work, his colleagues and to our town," said Cllr Adam.
"The parish of Great Aycliffe has been the beneficiary of his work ethic and knowledge over the past 32 years.
"Using his extensive knowledge of local government protocols, and expected standards within local authority, he ensured the council remained financially viable and delivering an excellent service to the town's people."
Independent councillor Arun Chandran added: "There's no money for this honour. No trinkets. Not even a free meal at the Sports Complex! Just its exclusiveness.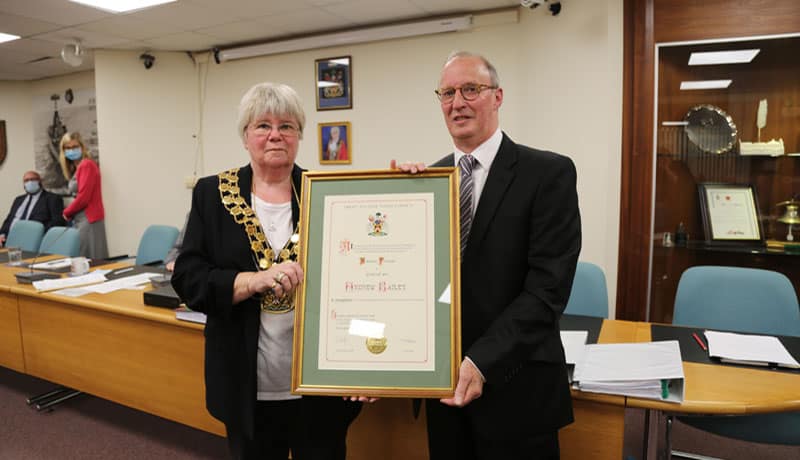 Andrew Bailey receives the Honorary Freeman of Aycliffe from mayor Sandra Haigh.
"Andrew was no bureaucrat. He was highly intelligent, extremely confident. His honesty and integrity have always been above questions.
"He was a tireless and dedicated public servant. He helped enormously in putting the Great into Great Aycliffe."
Mr Bailey landed his first role with Great Aycliffe Town Council in 1989 as director of parks and leisure services.
He was promoted to director of leisure and environment before becoming town clerk in 2006.
Mr Bailey, from Chester-le-Street, added: "Having spent a lot more time at home than at work these last few months, I've come to realise how well I know Aycliffe, as opposed to where I've lived for 30-odd years, which is strange.
"I'm sure I'll be calling back a few times to see familiar faces every now and then."
Click here to read more about Andrew Bailey's history.