Companies across Aycliffe Business Park have collectively played a major part in supporting a historic football achievement for the town.
Newton Aycliffe Football Club won the Northern League title in the 2022-23 season – winning promotion to the Northern Premier League for the first time in the club's history.
A number of businesses across the park have played their part in supporting the club's euphoric title.
And now bosses are appealing for more businesses to get behind what will be a memorable first season at a higher level of football – just nine steps away from the Premier League.
Firms including SecuriCorp, Ebac and BTS Facades & Fabrications are already proud supporters of the town's football club.
SecuriCorp are home shirt and stadium sponsors, while Ebac have been long-standing supporters of the club.
BTS jumped on board last season with a pitchside perimeter advertising board as well as sponsoring one of the stands at Moore Lane Park.
The club's chairman Allan Oliver is grateful for the support received by firms on Aycliffe Business Park to date.
But he's appealing for more to get involved, with a range of benefits attached to supporting the club.
"There's a massive amount of work to be done between now and March next year," Allan said.
"A lot of work around the ground – a new fence around the whole pitch perimeter, more turnstiles and a new stand with more seating capacity.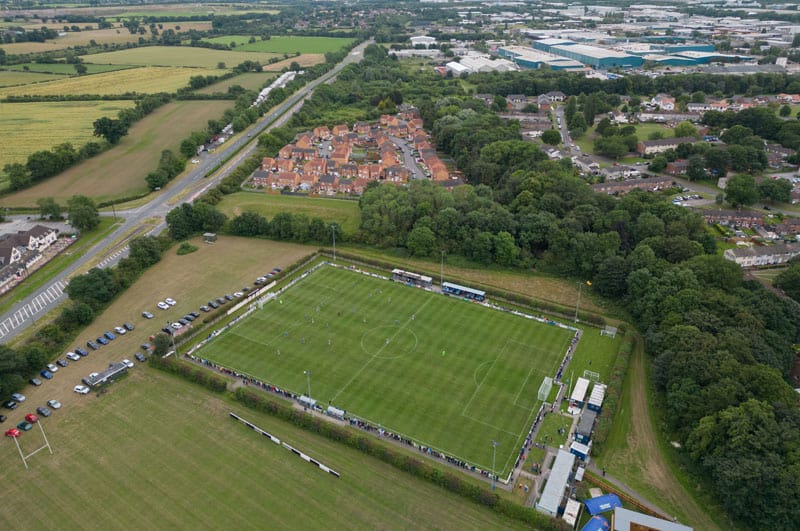 "It's a step up in league, a step up in quality, but we're looking forward to it.
"It's a new league, an exciting new era for the club, and we think we'll give a good account of ourselves.
"But the step up brings a step up in terms of your facilities, so we have some money to find this summer.
"We're determined to do it, but we could really do with some help, whether that's businesses helping with sponsorship, or volunteers helping with the work that needs doing around the ground."
Allan has highlighted some of the additional costs that comes with the ambition of aiming for greater things.
"The higher you go up in football, the higher your costs go up," he said.
"For example, our transport to away games next season will increase to somewhere between £12,000 and £14,000. It's a big bill and we could do with some help with that.
"As a businessman myself, I know these are hard times for some businesses, but we're looking for as many companies as possible to chip in and play their part, in any way they can.
"It's a big town and a big business park, and we'd love to see more companies get involved.
"We've got a great little club here, a quality management team and a great young squad of players playing good football.
Newton Aycliffe FC 2023 pre season film
"We have a full youth set-up in place which is bringing young kids off the town through the age groups and into the senior team – we had four players from the youth team play regularly for us last season – so there's much more to than just the men's senior team, it's about the community and giving young local lads opportunities to play football at a decent level."
As well as corporate sponsors, Newton Aycliffe FC are also welcoming any kind of support for the new season, whether that's businesses providing services, or individuals volunteering their time to help out.
Allan said: "It's a decent level of football, but ultimately we're still a grass roots club.
"We want to get more people involved with the club. You can't get too much help in any walk of life."
Aycliffe won the Northern League this year after 10 seasons in the first division.
They'd won promotion to the top flight in 2013 after quick promotions from amateur park football to the Wearside League and then the Northern League second division.
Manager Brian Atkinson – a Darlington legend as a player who also represented Sunderland and played in their FA Cup final defeat against Liverpool at Wembley in 1992 – is an Aycliffe lad and is proud to be spearheading the club's historic new chapter.
"We've done well as a club and a group of players but there's a lot of work to do," said Brian.
"At any level of football, there's competition for players in the summer, it's not my favourite time of the year as a manager.
"But we're working hard to retain the players who won promotion and bring in some new players who will bring some added quality.
"While there is a lot to do, we shouldn't forget the fact it's been a fantastic achievement by the club and the town.
"We should enjoy it and celebrate it, but if we want to compete at the next level, we need all the support we can get."
To read more about the packages and benefits of supporting your local football club, download the NAFC corporate sponsorship media pack here: Newton Aycliffe FC Corporate Media Pack 2023-24