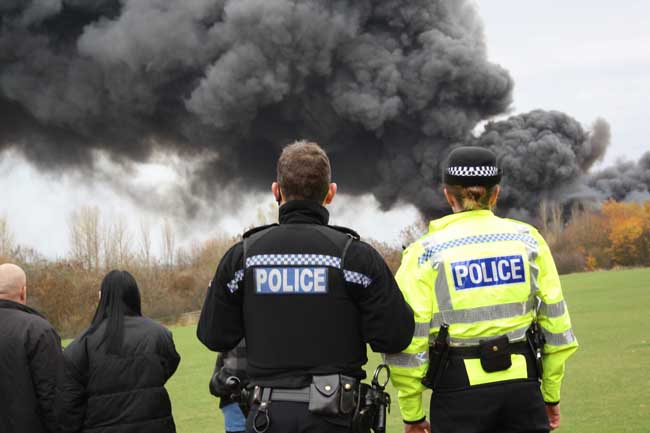 By Martin Walker
An investigation into a huge fire in Newton Aycliffe more than two years ago has finally come to a conclusion.
The blaze at Stiller Warehousing and Distribution, on Aycliffe Business Park on 5th November 2010, burned for more than four days and destroyed 7,500 pallets of aerosols and beauty products.
It wiped out 25% of Stiller's turnover and provided the company with "a tremendous challenge", the company's MD Paul Stiller has told Aycliffe Today.
Nearly two-and-a-half-years later, health and safety experts investigating the fire have concluded that no enforcement action should be taken.
In an exclusive feature in the next issue of Aycliffe Today Business – the town's new and only B2B magazine delivered to every company on Aycliffe Business Park – Mr Stiller praises his staff for helping the firm to recover.
In an open interview, he says: "It's part of our history and it's what a lot of people know us for.
"The fire provided us with a tremendous challenge. First and foremost, we were thankful nobody was injured.
"We practised hours upon hours of evacuation procedures that ultimately saved lives, while the Health and Safety Executive's report apportioned no blame whatsoever to us.
"But the fire gelled and re-focused the workforce. Now we've moved on, we want people to know us for the fantastic facilities we have here in Aycliffe and our second-to-none reputation in the industry."
Stiller has since brought the company's staff numbers back up to 100 and turnover back to just under £10m.
Meanwhile, a Health and Safety Executive spokesperson told the Northern Echo: "HSE has concluded that no enforcement action under the Control of Major Accident Hazards (COMAH) Regulations 1999 should be taken.
"On completion of the investigation, which involved the police, fire and rescue service and Environment Agency, it was determined that due to circumstantial evidence the cause of the fire could not be completely proven."
However, the spokesperson said the investigation had highlighted key issues to take forward with the industry, including whether more could be done to reduce the risk of fire in aerosol warehouses.
At the time of the fire, Stiller was regulated by HSE and the Environment Agency as competent under COMAH regulations.
The prompt evacuation of the site, which ensured the eight employees working in the warehouse at the time of the fire escaped unharmed, was also praised.
It is thought the fire started when a leaking aerosol was ignited by the motor of a fork lift truck working in the area.
● Mr Stiller's full interview can be read in the January-February issue of Aycliffe Today Business, due out later this month.