Aycliffe Town Council is said to be planning a huge outdoor pool party to celebrate the end of lockdown this summer.
Carefree councillors at the local authority want to make a splash with the town celebration on June 22 – the day after all social restrictions are due to end.
And although council officers were remaining tight-lipped about the planned party this morning, Aycliffe Today understands they're excited at the thought of letting their hair down for the first time in a Century.
We're told the pool party is planned for the top storey of Aycliffe town centre car park – boasting infinity views of Aycliffe's skyline – with no restrictions on numbers.
Council officials have hired in the help of French outdoor watersports experts – Paris-based La Fir Pool – to construct the outdoor facility, similar to the one pictured below.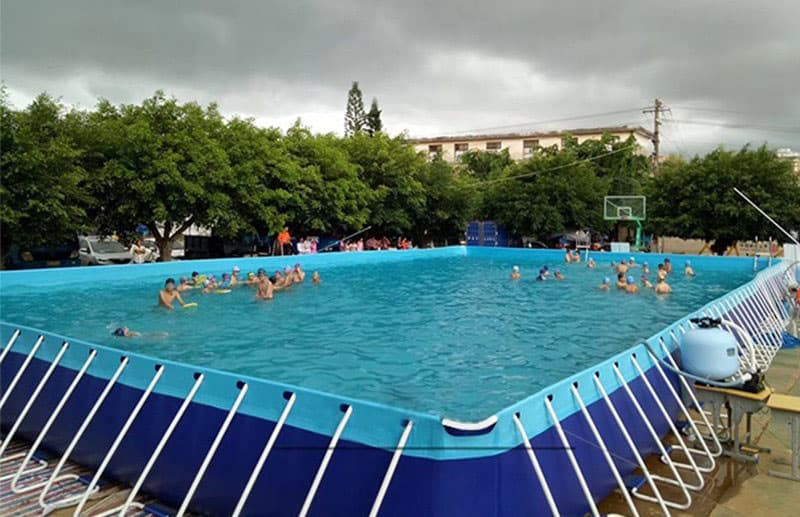 They say the industrial pool is durable enough to accommodate up to 500 swimmers at any time and is 100% waterproof.
Meanwhile, in a nod to Aycliffe history, organisers have arranged for legendary lifeguard Paul Bewley to roll back the years with a retro poolside appearance, complete with whistle, fake tan and trademark quiff.
It would be a stunning about-turn by health and safety boffins at Aycliffe Council who have a unique track record of turning down all applications for everything.
A source told Aycliffe Today: "Councillors are very conscious that it's been a long old road to freedom during this pandemic and we need to celebrate the end of lockdown as a town in style.
"They're very excited at the prospect of celebrating with a huge outdoor pool party – possibly the largest outdoor pool party ever – which will be a sight to see.
"But local people must adhere to the rules otherwise they could spoil it for everyone – i.e. no running, no bombing and absolutely no heavy petting."
It's thought Labour councillors at Aycliffe Council are keen to show their liberal side ahead of the local elections on May 6.
Our source added: "It is true one or two of them might be looking over their shoulders at the moment – one might say they're swimming for their lives.
"But it isn't true this is a cynical, kneejerk ploy to win votes. They've been planning this for at least two weeks."
Independent councillor Irene Hewitson is said to be furious at the planned end-of-lockdown celebrations.
They would effectively put an end to her paranoid, anti-Covid rants on social media – arguably a celebration in itself.
"They wouldn't throw a pool party when I suggested we should, in January," Cllr Hewitson blasted.
"Ere, I'm telin' ya man, don't believe a word they're sayin' – they're all Nazis."
We'll bring you more on this developing story this afternoon.
Updated: Did you spot our April Fool? La Fir Pool is, of course, an anagram of April Fool!