Council leaders have been detailing how more than £30m of investment secured from the government's Levelling Up Fund and match funded by Durham County Council and the Science Museum Group is set to provide vital investment in transport infrastructure and culture-led regeneration to County Durham, during a visit to the area by the Chancellor Rishi Sunak MP.
The visit comes following the recent success of Durham County Council's application for £20m from the government's Levelling Up scheme.
This will help in delivering a heritage corridor master plan focussed on visitor attractions Locomotion in Shildon and the Stockton and Darlington Railway Line, as well as delivering the A68 Toft Hill bypass and reopening historic Whorlton Bridge.
There has been further good news for County Durham with the announcement that Hitachi, which has a factory in Newton Aycliffe, has in a joint venture with Alstom been awarded a contract from HS2 to build high speed trains.
During his visit Mr Sunak met with the council's Leader Cllr Amanda Hopgood, deputy leader Cllr Richard Bell, chief executive John Hewitt and its corporate director of regeneration, economy and growth Amy Harhoff.
He was then given a tour of Locomotion by director Judith McNicol and head of museum, Sarah Price, where the Levelling Up funding will be used to help build on the area's status as the world's first railway town with the engineering pedigree that gave birth to the world's first passenger railway.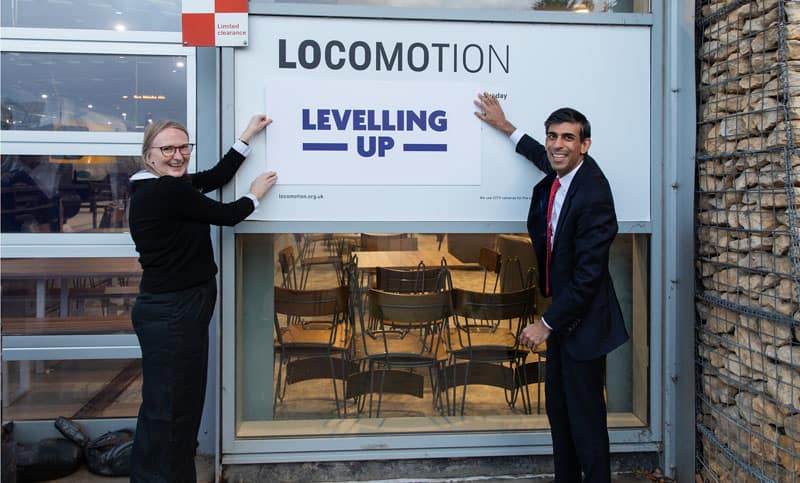 This will make a huge contribution to the bi-centenary of the Stockton and Darlington Railway in 2025 – a key part of County Durham's bid to be named UK City of Culture in 2025.
Increased car parking, cycle parking spaces and electric vehicle charging points at Locomotion, as well as the new Locomotion Building Two and improvements that will see heritage engines run along the museum line, are set to drive many more visitors from around the country to the popular attraction.
County Durham is already a major economic force in the North-East.
It has 533,100 residents, supports 174,000 jobs in 14,565 businesses while it also attracts more than 20 million tourists and contributes £9billion to the region's economy each year.
Cllr Amanda Hopgood, leader of Durham County Council, said: "We have ambitious plans to regenerate County Durham's towns and villages to ensure that the county remains a fantastic place to live, work and visit.
"That is why we were delighted to have been successful in bidding for £20m from the Levelling Up fund towards our infrastructure, a figure which will be matched by investment of £11m from the council and The Science Museum Group, to help us achieve the very best outcomes for our communities.
"The funding will also be of great benefit to our proposed Inclusive Economic Strategy which, working with key partners, strives to enable business aspiration and improve training and education opportunities to help people into skilled jobs.
"It will also support more inclusive opportunities for innovation and economic growth, helping people and businesses to thrive."
An 18-kilometre walking and cycling route will also support residents and visitors in active travel, linking rural communities to Bishop Auckland and Newton Aycliffe, as well as to the National Cycle Network.
Judith McNicol, director of Locomotion and the National Railway museum, said: "There's no better way to illustrate the incredible opportunities that we have with the Levelling Up Fund and the County Durham bid for UK City of Culture 2025, than the tour we took with the Chancellor around our historic site at Locomotion.
"We're investing in Locomotion and Shildon to create an inspiring experience for our visitors and our community, a brand new building that will provide a safe and stunning environment for our collection of railway vehicles, and a sustainable future for our internationally important heritage buildings.
"As we build towards the national celebrations for the bicentenary of the Stockton and Darlington Railway in 2025, the prospect of unlocking this area's extraordinary economic and cultural potential now seems well and truly within reach."
Following his visit, Chancellor of the Exchequer Rishi Sunak said: "We are absolutely committed to levelling up opportunities across the whole of the UK so people have good jobs and greater opportunities.
"It's fantastic to see how our £20m investment will enhance this popular tourist attraction.
"This will boost access for rural communities so they can enjoy the area's rich railway heritage and connect people to key transport links nearby."