There was a busy weekend of league and cup action for Aycliffe Juniors this week…
The under 8's (pictured below) advanced to the next round of the cup with a home win against Leven. There was some great football on display and goals shared between Rhys Galloway, Jake Smith (2) and a Harvey Lee hat trick leading to a 6-0 win. The second game wasn't as dominant and goals from Jake Smith and Jacob Galloway couldn't stop Leven winning this one 5-2. Men of the Match were Harvey Lee and Jack Lowis. This squad were looking sharp too in their kits kindly sponsored by Red Hot Heating (as pictured).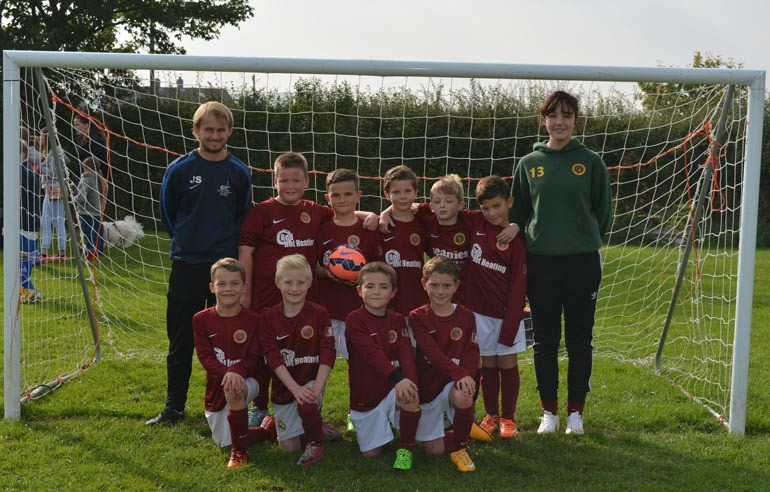 The under 9's were also in the league cup and progressed courtesy of a win at home against Greatham. Thomas scored in a quiet first half for a 1-0 lead at the break. In the second half the quality increased and when Reece's shot was parried away Lewis volleyed the second goal in to the net. Reece then scored himself after good work from Parker before Thomas completed a great hat trick with the fourth and fifth goals. Solid defence and quality goal keeping kept Greatham out and the game ended with a 5-0 win.
The under 10 Russell Foster league team got another win after a hard thought game against Washington AFC Puma's. This was their eighth successive victory and should secure promotion from this division in the first of this league's mini seasons. Bo scored a hat trick, Evan got one from distance and Taylor drilled home a free kick to secure a 5-2 win. Herbie was the parent's man of the match with a fine display in goal and Bo took the players award.
The under 10 TJFA side had a home draw in Round 3 of the league cup against near neighbours Shildon. After a slow start Zack hit four goals in a superb Aguero style ten minute spell which gave a significant half time lead. Lucas added the fifth before a well struck Jake free kick hit the net for the sixth. Shildon's late consolation goal made the final score 6-1. The second game was a lot more even but good Aycliffe finishing led to a 6-2 win.
After a challenging game last time out the Under 14's had an away trip, in the cup, to Stockton who are two leagues above the Aycliffe side. A spirited performance which was vastly improved from last week and included strong debuts from Tom and Lee wasn't enough for a win but showed promising signs for the weeks ahead.
Under 18 Reds went through to the next round of the challenge cup as Lewis Race and Ryan Peart scored in a 2-1 win at Shildon.
The Under 23's couldn't build on last week's win and lost out at home against Norton and Stockton. Still missing players through injury they started sluggishly but created the best chances of the first half with Jack Oliver and Michael Howe's shots being well saved and the first half ended goal less. In to the second half and the failure to dismiss an away defender for striking Aycliffe captain Jack Slatcher seemed to unsettle the team. Three goals were then conceded with no reply and despite the a hard working performance from man of the match Joe Young the others did not match this effort and they slid to a 3-0 defeat.