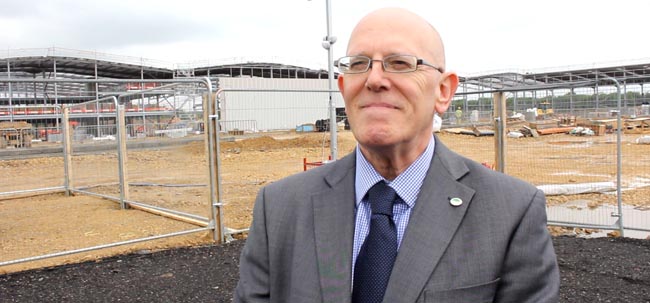 By Martin Walker
Hitachi Rail Europe say local people can now start to appreciate the size of their investment in Newton Aycliffe, with their huge train-building factory quickly starting to take shape.
At a special steel ceremony on site, the Japanese firm's managing director Keith Jordan (above) told Aycliffe Today he hopes Newtonians will get "a good feel" for the £82m facility on Aycliffe Business Park.
About a third of the 2,000 tonnes of steel has already been erected, which is being done by Aycliffe firm Finley Structures.
The steelwork is expected to be completed by September this year and main contractors, Shepherd Construction, should complete the factory by the end of summer 2015.
In a Video Interview with us, Mr Jordan said: "I think people can see for the first time the size of the facility that we're building here and the investment we're putting into the local area.
"What you can see behind me is only one elevation of the factory – it's the smaller dimension of the factory itself and will actually go back a lot further.
"So you can appreciate that 730 jobs will disappear in a factory of that size.
"It shows that things are happening very quickly. Very soon, over the next six months, you'll see the full factory, and it will be very, very impressive.
"The size of it, and the commitment by us, and the number of people that will be employed in the local area, people will get a good feel for that."
Mr Jordan was impressed to see three generations of the Finley family present at last week's steel ceremony.
"Finley Structures being local, within a mile of this facility, it couldn't be better than that," he added.
"It's quite a big contract that they've won. Most of the steelwork you see behind has been fabricated by them.
"To have a local company that has been here for a long time, three generations, and to see the young daughter make those presentations was very good – and we hope she'll become one of our first apprentices!"
Click here to see our Video Feature.