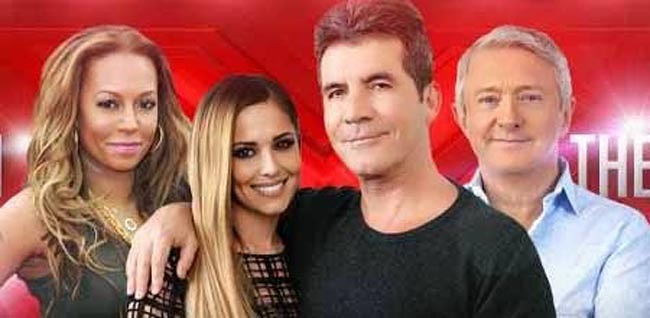 Zoe Skerrett continues her weekly review of the X Factor…
Much to my disappointment there was no controversy, no arguing and no disagreements on the X Factor this weekend.
With only one act that caused a rife between the judges, everyone else either got through with four yes's or went home with four resounding no's.
Although there were some good ones that I think we'll be seeing in the final, there were some terrible ones that make you question who is telling them they're good enough to audition.
However, without the singers that resemble nails-on-chalkboard scenario, what would the X Factor be?
To kick off the second week of auditions, party animal Ten Senah sang her own song, 15 minutes, after a night of partying and no sleep. While I wasn't a fan of her singing, she still got the four yes's she needed to see her through to the next round although the judges disapproved of her party lifestyle and were weary of her not taking the singing seriously.
Not waiting any longer, in come the singers whose dreams were shattered before they began. Irish Mervyn Scott took on a Whitney Houston classic but unfortunately he needed the help from Cheryl and Mel B to remember the words and Christina Brodie, who named herself Queen Christina, claimed she was Britain's answer to Lady Gaga. After a few window-shattering squeaks she was quickly put down for being too crazy.
The boys stole the show again, there was amazing performances from 23-year-old Charlie Brown singing Trouble with his guitar and US Air Force recruit Charlie Martinez with Enrique Iglesias' Hero, he also revealed he had to be granted permission from The Pentagon to enter the show.
With many more sensational contestants, including Paul Akister, who made it through to the judges houses last year, it got me thinking whether another boy band could be formed to rival X Factor superstars One Direction.
Also a previous contestant, Geoff Mull made it through to bootcamp last year but didn't get the call up to the judge's houses. Singing his own song, Better Man, the judges loved it and gave him a second chance through to the next round.
Again with the below average singers, Sunday's show saw some crackers that give the X Factor its main entertainment. With Starlight who wowed the judges for all the wrong reasons after singing her own song, Discipline, she goes on to slap her bum and leave the room. After not taking no for an answer, she returns to the room and a similar thing happens again.
Then there was Rain, another contestant that just wouldn't take no for an answer, after receiving two yes's and two no's she leaves in a huff before coming back, singing her own song and convincing Simon to revoke his no to a yes.
While it's usually the boys that bring along a guitar, the girls showed that they too could play and sing at the same time. Fifteen-year-old Emily Middlemas sang Cher Lloyd's I Want You Back in an original style that wowed and I already can't wait to see her in the next round. Also, Kayleigh Manners brought along her guitar to sing Sam Smith's Stay With Me which sounded amazing with a female voice.
As always though, my three Ones To Watch of this weekend are the ones I'll be putting my bets on to appear in the final. Although I hate to admit it, they're all boys and I wouldn't be surprised if a boy won it this year because they are killing it!
The ones I'll be keeping an eye out for are Ben Haenow, a van driver who sang Aint' No Sunshine, Jake Sims who brought his little sister to sit with Simon while he sung Supersition and finally, Jake Quickenden. In 2012, Jake made it to Nicole's house but lost out for a place in the final, this year he came back with a bang but quickly put his guitar down at request of the judges for being too distracted.
After a boring week with no debates or storms on the panel, you have to admit there were still some amazing singers that we'll be seeing in the next round.