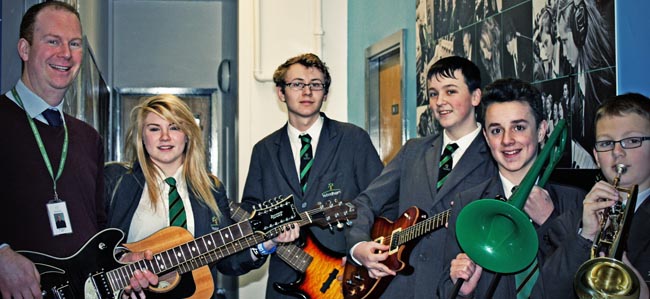 Woodham Academy will once again showcase the very best in music and dance in the eagerly anticipated Woodham's Got Talent 2015 later this year.
Last year's show saw the judges have to make the toughest of decisions in separating the performers as the standard was so high, however the wonderful dancing of Year 8 student Lauren Towell won the day.
This year's show, in March, is promising to be every bit as spectacular and every bit as hard to split the students.
Practising is well under way with the first round of auditions due to take place in February.
The evening also hosts a performance by the Woodham Academy Jazz Band and a mystery staff item.
Woodham Music Department has also been the recipient of an extraordinary gift from a local resident.
A gentleman from Washington Crescent gifted four impeccable guitars for use by students.
The guitars, a beautiful Acoustic, a 12 string Schechter, a 5 string Bass and a wonderful JTV Line 6 electric guitar, have made terrific additions to the department and are being put through their paces by the Academy guitarists.
The Music department has also received funding from the EMI Sound Foundation this year to purchase brass instruments.
There are already a number of students learning to play the trumpet and trombone at Woodham Academy but with the addition of these new instruments the number of students learning will increase three fold. Woodham Academy plans to have its very own Brass Band in the future.
• Tickets for Woodham's Got Talent will go on sale from the last week in February and can be purchased by contacting 01325 300328.