Woodham Academy welcomed back the entire school community in the first week of September.
For the second year in a row, the school was oversubscribed for new starters, with 220 new year 7 students enjoying a day to themselves on the Wednesday, providing a settling introduction to their new school.
Normally, students would have received a variety of taster days and transition events, but due the national school closures, this was not possible.
Angela Abson, head of learning for Year 7, said: "The students have settled in brilliantly.
"They all had a degree of nervousness, which is completely understandable, but this was quickly replaced with excitement and energy.
"It has been lovely to have them all in the building."
Woodham has undergone some significant building work over the summer period, with a brand-new dining room being constructed to seat over 300 students at the same time.
Aycliffe-based fabrication firm Palram donated perspex screens, with transparent dividers allowing teachers to see their students, and employees to see their co-workers in a safe way that adheres to new social distancing practices.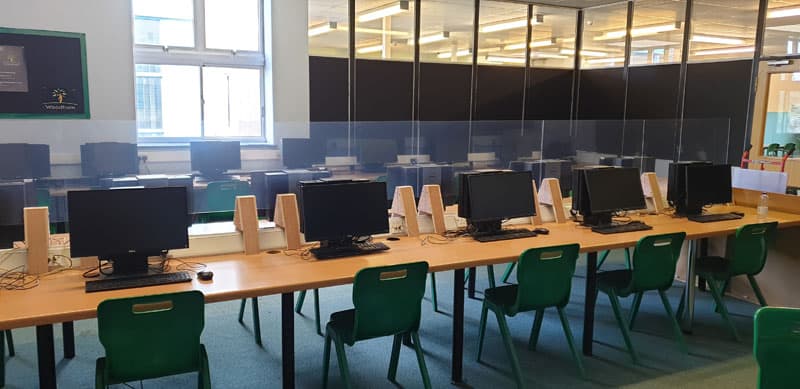 The screens have been used in the school's reception and IT departments.
The school admits the changes – done to accommodate over 900 students in a Covid-safe environment – have been challenging.
But head teacher Andrew Bell has praised all of the staff and students.
"Everyone associated with the school was naturally apprehensive about returning to school," he said.
"However, we have managed to create an education model which sees all students being taught their full timetable in their correct classrooms with their correct teachers. This was really important to us.
"Each year group has their own area of school and we have even managed to create a new dining room out of a drama hall.
"I must compliment all the staff, students, parents and carers for their support and words of encouragement.
"I always make sure that I share the messages I receive, and recently, this has been even more appreciated."
Woodham Academy had planned on hosting a series of Year 6 Open Evenings, but due to the new 'rule of 6', this is no longer possible.
Parents can keep a close eye on the school website (www.woodham.org.uk) for all the information year 6 parents / carers will require.