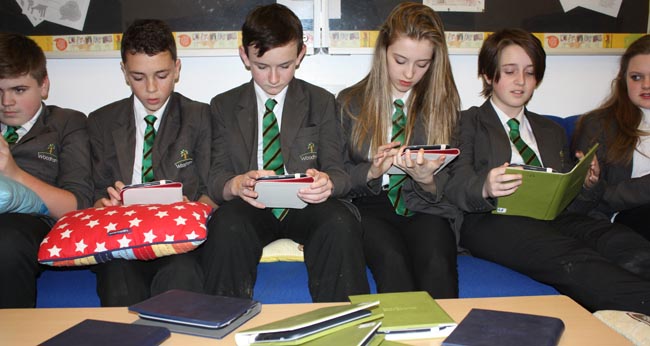 Woodham Academy is trialling electronic reading tablets in some of its classrooms as part of a drive to embed the 'Three E s' in the school: e-reading, e-writing and e-arithmetic.
Despite some public apprehension to the contrary, young people still find reading popular. However, more and more readers are accessing literature through different media, such as laptops, phones and tablets.
Woodham Academy recognises the need to keep reading relevant, and points to recent government statistics which suggest that regular reading is perhaps the single most effective way learners can improve their comprehension and vocabulary, as well as developing a greater understanding of the world around them.
As part of an initiative to raise literacy standards across the school, e-readers are being introduced in some English lessons as a way of encouraging students to read. A group of students have been studying digital texts in order to compare them with traditional paper-based ones.
There are lots of advantages in reading digitally, such as portability – e-readers are incredibly lightweight and can fit thousands of titles on one machine; discretion – no one knows what you are reading, so children with different reading abilities can remain anonymous; convenience – users can highlight texts, increase font sizes or background tones and take notes; plus the dictionaries and thesauruses mean readers can instantly look up any unfamiliar words they might come across.
Students have already enjoyed reading bestselling titles, as well core curriculum classic texts, such as Of Mice and Men by John Steinbeck.
As part of the continually blooming reading culture within the school, students can take part in the loan an e-reader scheme.
Josie Marsh, the Reading Coodinator said: "This is a fantastic opportunity for any student to try out an e-reader and to sample different texts."