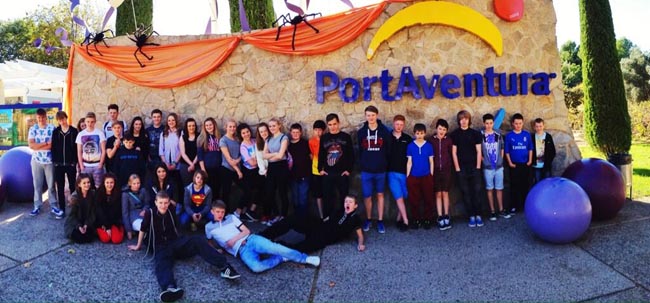 For the fourth successive year, students from Woodham Academy spent the October half-term week on the Costa Brava in Spain.
Thirty-five students from years 8-11 accompanied by three members of staff travelled to Catalonia and visited many of the sporting and cultural attractions that the city of Barcelona has to offer.
Based in the popular tourist destination of Lloret de Mar, students enjoyed the late October Spanish sunshine on arrival at the beach.
During the first of two day trips to Barcelona students visited two World Heritage Sites and one of the city's most distinguishable landmarks, the Sagrada Familia.
Towering above the city and under construction since 1882, the basilica was designed by architect Antoni Gaudi.
Gaudi was also the inspiration behind the students next destination, Parc Guell. After a visit to Port Vell the party made the journey to the Olympic Stadium, venue for the 1992 Olympic Games.
The iconic Nou Camp stadium was the major attraction for the second day in Barcelona. The extensive tour allowed students to explore behind the scenes as they visited the press box, interview area, press room and changing room before following in the footsteps of world greats such as Messi and Neymar, entering the pitch from the tunnel of Europe's largest, 100,000 capacity stadium. Students then observed the numerous street artists and performers shopping for souvenirs along Las Ramblas.
The trip culminated in a visit to the Port Aventura theme park in Salou. Students were able to encounter white knuckle rides such as Dragon Khan, Furious Baco, Hurakan Condor as well as Shambhala, the tallest and fastest ride in Europe at 78 metres reaching a top speed of 134km/h.
The trip has proved to be a major success with students and it is becoming a very popular event on the Woodham Sports Academy calendar.