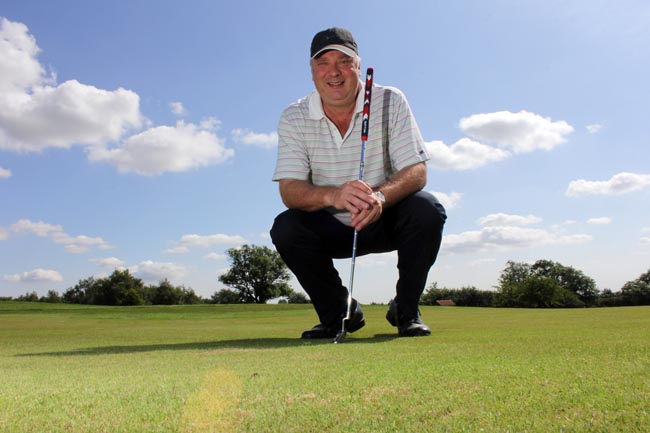 By Martin Walker
Woodham Golf Club is set to re-open next week after an extensive two-month refurbishment programme.
The course will open on Friday 1st August after it was initially closed down last November when its previous owners, Washington Developments, went into administration.
The new owners, local businessmen Neville and Stephen Hall, now welcome all golfers.
Ernie Wilson (pictured above), a PGA pro who looks after the course, told Aycliffe Today: "The owners were adamant that we only wanted to open it when the course was absolutely spot on and in the best possible condition.
"A tremendous amount of work has gone in to the course, including drainage and a lot of TLC on the greens, while there has also been a refurbishment of the club house and front entrances.
"It's a new era for Woodham Golf Club and we can't wait to open the doors again."
The golf shop will be open from Friday (25th July) when golfers can also pop in to sign up to memberships – fees and green fees are listed below – with the course opening the following Friday.
Call the shop on 01325 319977 or email [email protected]
Woodham Golf & Country Club
Green Fees
Weekday £17.00
Weekday junior 12.00
Weekday with member £12.00
Weekday day £30.00
Weekend £22.00
Weekend junior £15.00
Weekend with member £15.00
Weekend Day £40.00
Membership
No joining fee. No waiting list.
8 month membership (1st August 2014 – 31st March 2015)
All week £300
Weekday £267
Joint £565
Juniors (17-21 years old) £133
Juniors (14-16 years old) £67
Juniors (under 14 years old) £33
Members from 2013 who held membership until after 31st October will receive a 20% discount when joining in August.
Payment by Cash, Cheque, Credit/Debit Card
Cheques made payable to "Woodham Golf and Leisure Ltd."
Members from 2013 who held membership until after 31st October will receive a free game of golf in the 1st week of August (valid from 1st August until 7th August).
Bookings taken 7 days in advance.
Society Packages
Tea/Coffee & Bacon Roll – 18 holes
Weekday £21.00, Weekend £26.00
Tea/Coffee & Bacon Roll – 18 holes – 1 course meal
Weekday £28.00, Weekend £33.00
Tea/Coffee & Bacon Roll – 9 holes – soup & sandwiches – 18 holes – 2 course meal
Weekday £48.00, Weekend £58.00
Buggies
Visitor £20.00
Member £12.00
A full stocked golf shop, opening on Friday 25th July. Coaching is available from PGA professional Ernie Wilson.
Golf shop telephone number: 01325 319977
Website: http://www.woodhamgolfandcountryclub.co.uk
Email: [email protected]