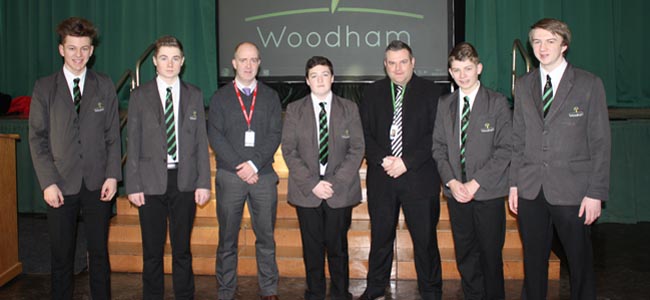 Woodham Academy is working with Gestamp Tallent for the fifth consecutive year as it looks to recruit more apprentices to its international engineering and manufacturing company.
Students have the opportunity to work with a real life employer in a Lord Sugar style challenge.
Over a five-week period, students will complete in a range of challenges linked with business.
These challenges will be judged on a weekly basis by representatives from the company.
Students will visit the plant and go through a series of interview tasks at the plant.
The company will decide the overall winner of the Apprentice competition and award apprentice opportunities to successful Woodham Academy students, who have made a positive impact.
Gestamp Tallent offer apprenticeships in Tool Making, Maintenance and Business. These apprentice opportunities offer students the ability to carry on studying in the workplace whilst also having the option to continue studying up to and beyond degree level.
Pictured (above) are some of the interested students alongside Gestamp Tallent Training Controller, David Pearson, and Michael Nelson, Head of Technology at Woodham Academy.
Deputy Headteacher Jonathan Lumb said: "This is another amazing opportunity for Woodham Academy students to be involved with an International company.
"I am sure they are going to get so much out of the 2015 programme. We wish all the students involved in this challenge the best of luck."