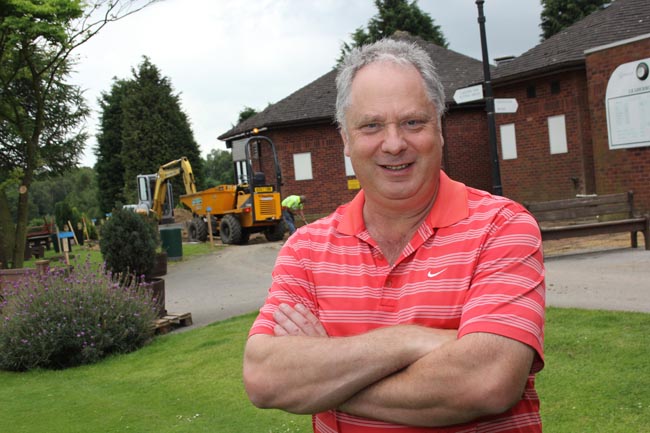 By Martin Walker
The professional golfer in charge of Woodham Golf Club's course says it can get back to being one of the best in the region.
Originally designed by the highly-respected J Hamilton Stutt, a founding member of The British Association of Golf Course Architects, Woodham enjoyed a reputation as one of the North-East's premier courses when it first opened in 1981.
The course was plunged into administration by its Irish owners, Washington Developments, last November.
And as revealed on Aycliffe Today a fortnight ago, Rushyford-based family firm Hall Construction snapped up the course for an undisclosed figure.
Its new owners are now busy spending thousands of pounds redeveloping the clubhouse and surrounding area as well as the course itself.
But due to the course being closed for more than seven months, it requires more work than first envisaged, and after initially targeting an immediate re-opening, Hall have instead decided to get it in tip-top condition before an official open day, hopefully some time in July.
Greenkeepers returned to work as soon as the sale went through, and Ernie Wilson returned to work last week.
And he wants to get the course back to its best.
In an exclusive Video Interview with Aycliffe Today, he told us: "As any local golfer knows, Woodham has a tremendous layout.
"There are various courses around, with top-notch five star establishments in County Durham and further afield, but with some investment this course could be as good, if not better than any of them.
"The drainage is an issue. We've had a wet spring this year and there still scars in the evidence out there, but we're going to spend a lot of time and energy in trying to solve that problem."
Originally from Fife in Scotland, Ernie played at all levels of Scottish amateur school golf as well as youth and full international levels.
He represented Great Britain and Ireland at youth level and won the Lord Derby trophy and has mixed it with world-renowned faces of golf, including Bernhard Langer, Vijay Singh, Colin Montgomerie and Sandy Lyle.
"This is the third time I've come here as the golf pro, the first time being in 1993," Ernie told us.
"There hasn't really been a great deal of investment into the course. Now there's a different atmosphere totally.
"You can see the guys on site working hard, and now I've got a plan of how it's going to go from here, it's exciting times for the club."
Click here to see our Video Interview with Ernie.
Related stories:
PICTURE GALLERY: WOODHAM GOLF CLUB
WORK STARTS AT WOODHAM GOLF CLUB
AYCLIFFE TODAY PROMPT GOLF CLUB SALE!