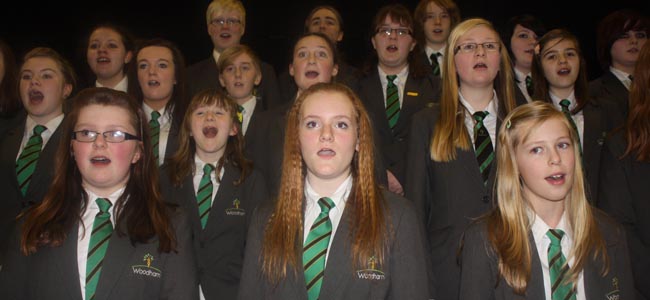 Students from Woodham Academy took to the stage for their annual Christmas concert.
Around 60 students altogether were involved in the performance, from newer members of Year 7 to the regular faces of Year 11 students.
A new addition to this year's programme was the inclusion of Woodham Dance Academy, which was launched in September.
Twenty-five students from Key Stage 3 took part in a group performance of 'El Tango de Roxanne', from the film Moulin Rouge.
Also performing were various solo singers and band performances, as well as the Academy's ensembles – Woodham Sound, Woodham Jazz Band, Instrumental Group and Woodham Samba Band.
A special preview of the upcoming production, 'We Will Rock You', also came in the form of Rhys Kingston (Y11) and Gaynor Lambert (Y10) who performed 'Killer Queen' and 'No-one But You' from the musical. 'We Will Rock You' will be taking place from March 5th-7th in 2013, and promises to be an entertaining show.
Students also showed their community spirit on the night. At the interval, several students from Year 10 set up a bake sale, selling home-made cupcakes and shortbread, as well as the opportunity to win a gingerbread house created by the family of a student.
All proceeds from these stalls were donated to Teenage Cancer Trust, in recognition of the support provided, particularly to local families.
See more pictures below…