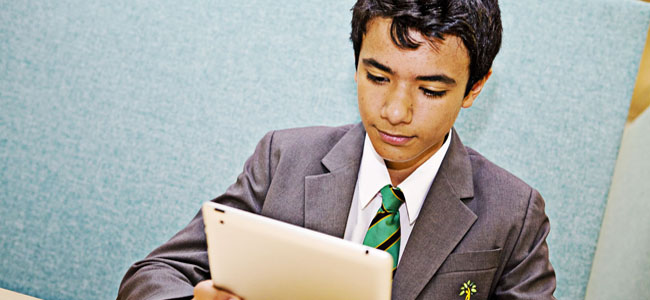 Woodham Academy welcomed its first cohort of Year 7 students on Tuesday this week.
Formerly Woodham Community Technology College, the school has taken the opportunity to become an academy after having achieved a glowing Ofsted report last year.
Some changes are immediately obvious – the distinctive new logo, smart uniform and interior decoration.  However what will really make a difference to students is the investment in the latest digital technology.
Wireless technology, a new Apple Mac suite, iPads, the Woodham App and a sophisticated Virtual Learning Environment will all help to support students' learning.
Additional direct funding from the government has also been used to create more opportunities for students.
The range of options available has been extended to include GCSE Dance and many more students will now be able to follow GCSEs in Biology, Chemistry and Physics.
Sports coaching is also on offer to elite athletes in a range of sports through Woodham Sports Academy.
Some things, however, will not change.  Woodham remains committed to its aim of "Achievement for All."
The highly successful Learning Centre has been extended to provide individual study support to even more students, with teachers available to help with homework at the end of every school day.
Headteacher Christine Forsyth said: "This is a very exciting time for Woodham. We had a fantastic year last year, culminating in our best-ever examination results.
"The changes we have made will help us to continue to improve not just the day-to-day experience for students, but the GCSE results essential to their future success."