Aycliffe Today editor Martin Walker meets Dr John Suggate, the chairman and founder of injection moulding specialists and major success story Formula Plastics…
It's safe to say most of us take for granted what goes into making the everyday machines and devices we rely on to live and work.
On Aycliffe Business Park, we're surrounded by manufacturing companies famous for making washing machines, lawnmowers and shower cubicles.
But there are even more smaller companies that are helping to fuel the manufacturing sector by making millions upon millions of parts that go into many of our finished products.
And Formula Plastics has its own impressive tale to tell about how it has evolved over the years.
The injection moulding specialists have now been on the business park for more than 20 years.
The firm was set up in 1996 by polymer chemist Dr John Suggate, initially to supply plastic parts to Thorn Lighting in Spennymoor.
He started out with five staff – three directors, an operator and a packer – having rented a 5,000 sq ft unit at the IES Centre, the former Underground Mining Machine (UMM) site just behind Crafter's Companion off Horndale Avenue, which closed in the 1980s after the demise of the coal mines.
Now spread across five units at the IES Centre, totalling 44,000 sq ft, Formula Plastics has seen sales double to £3.9m in the last five years, with staff numbers growing to 62.
The firm produces hundreds of thousands of plastic parts for manufacturers in the automotive, lighting and electronics sectors across the North-East and beyond.
It has certainly come a long way since former chemistry researcher Dr Suggate, originally from Chingford in Essex who studied a PhD in polymer chemistry, formed the company to solve a job-hunting dilemma.
"I'd relocated to the North-East after landing a job with a packaging company in Cramlington and brought my family up," says Dr Suggate.
"But then that didn't work out. I spent a while job-hunting but I couldn't find the right job for me, so I decided to invent my own! I saw an advert in The Journal, from the County Durham Training and Enterprise Council, encouraging people to start-up their own businesses.
"I got a few people together and sourced some cash and launched the company in May 1996."
After working in polymer research and lecturing at Lancaster University, Dr Suggate spent 13 years with a Midlands-based polyethylene company, which specialised in producing film that went into packaging for wines and soft drinks.
He went on to run the business for five years, a spell which arguably helped to forge a shrewd business acumen which would put him in good future stead, before moving North.
Later, Aycliffe Trading Estate – as it was known back then – was his preferred choice to start up his fledgling business.
"We'd initially set up to supply Thorn Lighting, so we were looking for somewhere fairly close by with good transport links, and Aycliffe just ticked a lot of boxes for us," says Dr Suggate.
"We were doing a lot of work for Thorn and other local companies, but then we had to explore other markets and that's when we started looking at the automotive sector, which is very much our core business today.
"In 2000 we started working with Calsonic Kansai, then based in Shildon, who were making air conditioning units for the automotive industry. They gave us some work on the Honda Civic, and they've been one of our main customers since 2002.
"They relocated their Shildon operation to its other site in Washington and very quickly started to expand, and so we started to grow with them, and they've remained a major customer of our business since."
A large part of Formula's recent success is down to re-investment. The firm bought a state-of-the-art 'twin-shot' machine in 2003 – which enables two different materials to be injected into the moulding tool during the production process.
A second has since followed to help Formula meet demand, while they have invested a further £650,000 in new machinery in the last two years.
They're helping Formula manufacture parts for well-known Nissan models – including the Qashqai, Juke and Leaf – as well as parts for most UK manufactured cars, supplying many tier 1 companies in the North East, the UK and Europe.
Dr Suggate says cautiously: "It has taken us 20 years to get to just under £4m, which is a long time, but it has been gentle, controlled growth.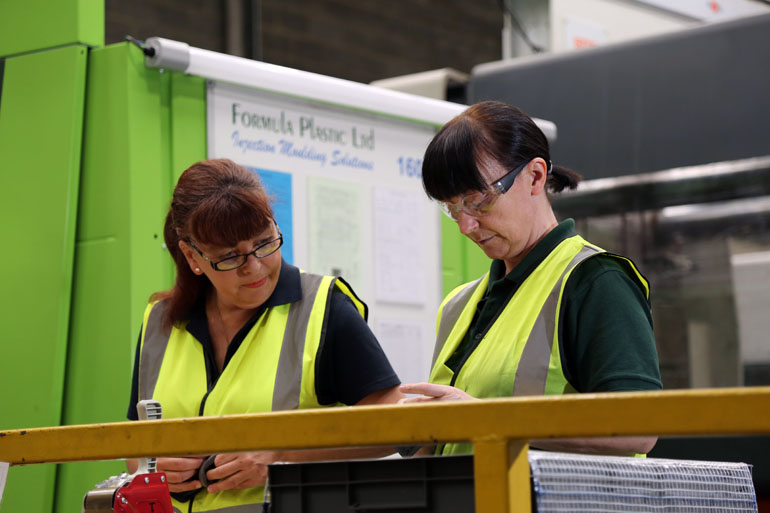 "But the company is definitely in the best shape it has ever been in. Our best year was 2016, based purely on profits, but we've re-invested that by buying two new machines, so our profitability has dipped in 2017 because we've invested in the future.
"What's more pleasing is that we've created jobs for the local area, and we have a good retention rate of staff. Ten years ago we had 30, now we have 62, and several of those have been with us for 15 years, quite a few more than 10, and that's something we're very proud of."
These days, Dr Suggate takes a back seat in the running of the company – working part-time mainly on the financial of the business – leaving the day-to-day stuff to managing director James Goodliffe and production director Geoff Hodgson.
Goodliffe, who joined the company nearly three years ago, now wants Formula to explore new markets while maintaining its firm footing within the automotive sector.
"We have the technology here now that can make plastic parts for virtually any industry," says Goodliffe.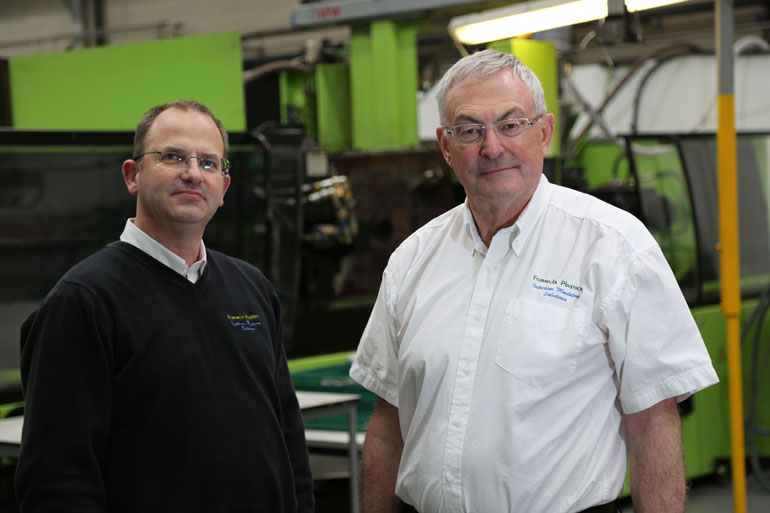 "We've invested £650,000 in new machinery over the last two years so we now need to capitalise on those investments and maximise what we have.
"Our aim is to increase our sales by at least £1m over the next 12-18 months while increasing our workforce, and a big focus of that will be on non-automotive sectors. In the next two to three years, we plan to grow the business to over £6m.
"There are always opportunities out there, but the big question for us is how ambitious could we be, or how ambitious do we want to be, without jeopardising the future longevity of the company?"
Find out more about Formula Plastics and its specialist injection moulding services at www.formula-plastics.co.uk