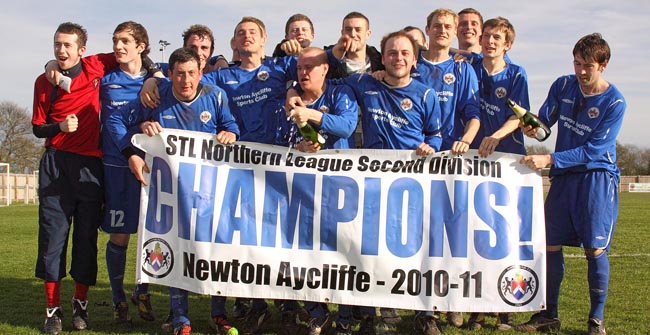 By Martin Walker
Newton Aycliffe's captain says his side's precious win at the weekend felt like winning the second division title all over again.
The Newtonians beat nearby rivals West Auckland 2-1 with another spirited performance at Moore Lane Park.
Skipper Sean Tarling says the relief and joy exploded into wild dressing room celebrations after a frustrating few months.
Tarling told Aycliffe Today: "The dressing room was superb after the game, it was wild, like we'd won promotion all over again.
"It's been coming, to be fair. The lads have been brilliant recently and we've been really unlucky, so to finally get a result was brilliant.
"The atmosphere on Saturday was great, we've worked hard for it and the supporters deserved to see a win, their unflinching support has been overwhelming, and to reward them was nice.
"We hope to build on this now – we play Dunston at home on Wednesday night and we'll hope to get another result and start climbing the table."
Aycliffe hauled themselves off the bottom of the Ebac Northern League first division with their second win of the season on Saturday.
Click here to read Dan Lewis' Match Report.
Aycliffe play Dunston at home on Wednesday night – kick-off 7.30pm at Moore Lane Park.
More from Tarling tomorrow…