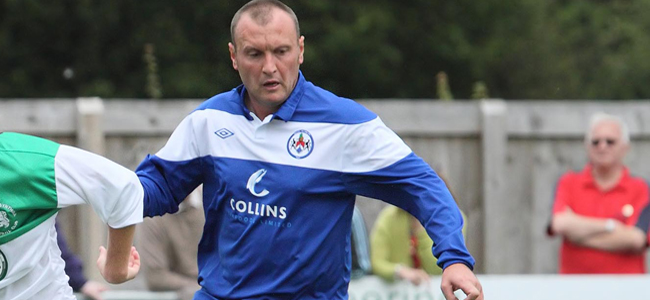 FA Vase qualifying round
Willington 0, Newton Aycliffe 1
By Paul McGeary
Newton Aycliffe won their first ever match in the FA Vase after a dogged 1-0 victory over Willington, but the win was not without controversy.
Dan Mellanby (pictured) and James Oliver were harshly sent off at opposite ends of the game, but Danny Earl's first half penalty was enough to advance the Newtonians.
Willington – two tiers below Aycliffe – were previously unbeaten, and top the Wearside League with a perfect record from nine outings. They had seen off Northern League side Seaham to earn the tie with Allan Oliver's men.
Aycliffe have shown signs of recovery in recent weeks after an abysmal start to their campaign, and came into this game well aware a potential banana skin lay in their path.
Oliver made two changes to the side which held Darlington for almost 80 minutes in midweek, with Scott Pocklington returning in goal and Mellanby starting at the expense of extra midfield player Martin Young.
Willington's Adam Pinkney blazed over the bar after seven minutes while Earl and Paul Broom forced saves out of Dave Moffat in the home goal during a tentative opening quarter.
The first questionable moment of the game came on 24 minutes. Dean Hansom came through the back of Mellanby to win the ball with the latter letting the referee know exactly what his thoughts were on the incident.
The referee – who was poor for both sides all afternoon – produced a straight red card, adjudging Mellanby's tirade to be both foul and abusive.
Four minutes later and the 10-men took the lead. Broom twisted in the box and just as he teed the ball up to volley, Mikey Weston handled and the referee was on hand to point to the spot.
Following Kris Hughes and Young's previous failures from 12-yards, Earl stepped up and fired the ball low under Moffat's despairing dive, for his third goal in four games since joining from Norton.
Aycliffe defended solidly all afternoon, with Darren Craddock and Mark Peck resolute, relying on the counter attack to fashion their chances.
Debutant substitute Dan Lockwood twice forced Moffat to save with his legs while a cute reverse ball saw Martin Butterworth one-on-one with Moffat, who sprung from his line to deflect the effort to safety.
With five minutes remaining, the referee once more produced his red card much to the belief of many inside the Hall Road ground. Oliver was deemed to have kicked out at Adam Sakr as the pair tussled in front of the visiting dugout and lineswoman; when reality showed a stern telling off for the pair would have been sufficient justice.
A frantic few minutes ensued with Moffat joining in the Willington attack, but Pocklington and his back four stood firm to see out the victory and earn a home tie with Esh Winning in the next round.
Aycliffe: Pocklington, Oliver, Owen, Tarling, Craddock, Peck, Broom, Knox, Mellanby, Earl, Woodhouse. Used subs: Butterworth, Lockwood. Unused: Wilson, Coad, Young.