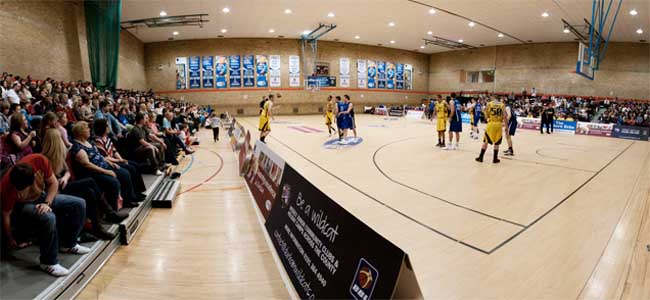 By Ryan Gillham
Head coach Dave Elderkin and his Durham Wildcats team are looking to bounce back this weekend after their losing streak continued with a defeat against Sheffield Sharks on Sunday.
But the team face two tough fixtures this weekend, as they make the journey down the M1 to fellow play-off hopefuls Manchester Giants and then back to Newton Aycliffe to face championship challengers Surrey Heat.
In their previous game against the Giants on home soil, Durham came back from a 12-point deficit to make a dramatic comeback to win by fice in a low scoring encounter. Coach Elderkin is looking forward to Friday's game and is confident that his team can put in a good performance.
"We are very familiar with the Giants roster and style of play," he said. "They are well organised, a good three point shooting team – particularly Stefan Gill, James Jones and David Watts. Stefan is small, but is agile and very quick on the pull up jumper.
"As long as we put in a good performance we will always have a chance of coming back with the win."
Durham Wildcats will then welcome Surrey Heat to town two days later, a team they have not currently faced in the BBL.
"We haven't played Surrey yet but their record is good and shows that they are a serious contender for a top four birth," said coach Elderkin. "I keep looking at their stats and Holmes seems to figure prominently. We have done our homework on the Heat and hopefully that homework will pay off come Sunday."
Despite some tough losses in previous Championship games and Sunday's loss against Sheffield Sharks, Coach Elderkin is confident that his team are making progress.
"Sheffield played well from start to finish, but we hung in, very pleasing and showing that mentally we had recovered from the second half collapse against Cheshire.
"Ralph had his best game of the season, as did Sam Johnson who continues to improve game by game but needs, along with Brad Guinane, to stay out of foul trouble and Mike Baldarelli had a strong last quarter."
Sunday's game against Surrey Heat will be played at Newton Aycliffe Leisure Centre, tip-off is 4pm. For tickets you can call the ticket hotline on 01325 300800 or go to www.godurhamwildcats.com
Remaining Fixtures This Year
Friday 7th Dec v Manchester Giants (A) BBL Championship
Sunday 9th Dec v Surrey Heat (H) BBL Championship
Sunday 23th Dec v London Lions (H) BBL Championship
Sunday 30th Dec v Newcastle Eagles (H) BBL Trophy