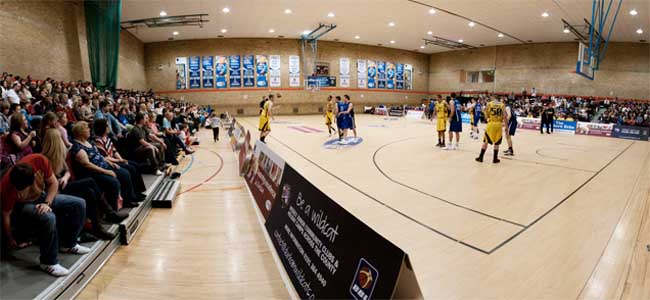 By Ryan Gillham
Durham came up short against Glasgow Rocks in the Wildcats first home game of the season at the Newton Aycliffe Leisure Centre as they lost 82-92.
Having played a game the previous night, the Wildcats had to use the depth in their squad and had to look to their bench players to step up in this encounter with Glasgow Rocks on Sunday night having an extra days rest after playing Newcastle Eagles on Friday.
It was a slow start to the game with the score at a very low count after five minutes of the first quarter had gone as the score stood 5-6 to the visitors.
The first came to life all of a sudden with Glasgow punishing from behind the three point line extending their lead to 5-11.
After the Rocks created an eight point lead at 6-14, the Wildcats clawed their way back to take the lead by two points, before the first came to an end with the score all square 19-19.
Durham took a lot of shots from three to start the second quarter but the outside shot never seemed to fall.
With the Wildcats failing to score the Rocks once again took advantage of the situation an early four point lead before Durham once again turned up the pace with some great ball movement bringing the game within one point.
Another scoring drought for Durham gave Glasgow another great opportunity to take the lead, which they did creating a seven points gap despite the Wildcats efforts to make amends.
Durham pushed on grabbing some important rebounds which helped bring the game back within three as the half finished 39-40 to the visitors.
The Wildcats started the third as they ended the second but failed to convert as E.J Harrison lead the Rocks to a nine point lead finding his range from behind the arc at 50-59.
Gareth Murray followed in Harrison's footsteps hitting a huge three and making it a double figure game as Glasgow dominate the third as the third finishes 55-64.
The start to the fourth saw Glasgow put down some quick fire points, opening up the gap with Harrison starring once again nailing another three.
It soon became a 17-point ball game with the Wildcats looking out of their depth but Durham never looked like giving up.
They slowly narrowed the lead, with Wildcats guard Mike Baldarelli stepping up to the plate bringing the gap down to nine points before been fouled out, which then brought the game to a close with Glasgow going home with a 10 point victory.
Wildcats Head Coach found the positives after a hard fought game.
He said: "It was a tough game after last night's win against Worcester but our legs had gone by the third but it will really do our team some good for their fitness and we look to the next game."