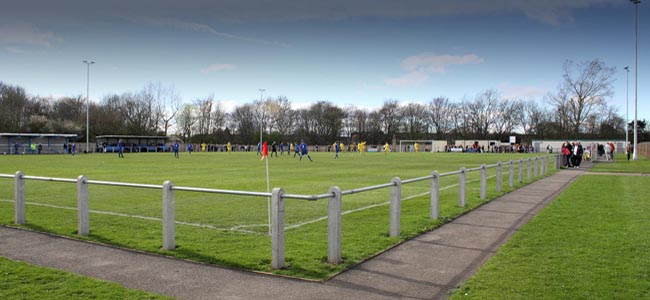 Paul McGeary takes a closer look at the potential reasons why Newton Aycliffe's ailing fortunes have changed so dramatically this season…
A year ago today, Newton Aycliffe lay fourth in the Northern League's top division, having topped the table after the opening two games.
Four games in, and after a Bank Holiday draw away to Bishop Auckland, Allan Oliver's men had amassed eight points – two wins and two draws as they took to top-flight football like a duck to water.
Four games into this campaign and after a humiliating, 5-1 record league reverse at the hands of the same opposition, Oliver's strides foot the division, without a point from their four outings. They've notched just two goals and conceded 13 already. It took 11 games to concede that amount last term. The only thing concurrent with last year is the embarrassing exit from the FA Cup…
So, where has it all gone wrong for the Newtonians?
Many will purport that Aycliffe's metaphoric bubble has burst, that the club is now drowning having ridden the crest of its own wave for so long. "We knew you'd tail off soon enough…" they said. "Come back when you're getting 200 every week for 50 years, not five minutes…" many mocked.
Those not perched in their Ivory Towers will bemoan the loss of vital squad members over the past 12 months, ones who have gone on to pastures new and higher up the table – strengthening the competition. Messieurs Gardner, Wood, Jardine, Mellanby and Gibson to note but a few – all would grace any Northern League starting XI.
Others will be more empathetic and point to injuries and absences, the fact that Oliver has already been forced to use 21 players this time round, while using 31 in the entirety of last season. Six games played, six different centre half partnerships. Five different right-backs; the same on the left.
Whatever the reason, and it may well be a small case of all the aforementioned, fans of the club should not forget, and never forget where the club was just five years ago this very weekend.
Admittedly, it wasn't all gloom. Aycliffe had just romped to a 9-0 home victory over Herrington CW to go top of the league. The Durham Alliance Football League. The crowd may have been 10 at max. 12 if you count the dogs on the leashes of their masters who stood for five minutes before ambling across Moore Lane playing fields and onward with their mid-afternoon stroll.
Monday's Bank Holiday with Bishop Auckland at the club's increasingly impressive Moore Lane Park ground drew a crowd of 340. The fourth largest in the club's near 50-year history. That's not counting the 575 for the summer's showpiece friendly with Premier League side Sunderland, nor for that matter the 1300 and 800 for the two previous high-profile games with then professional outfit and neighbours Darlington – whatever happened to them?!
Crowds may have fallen away since 350 crammed around the touchline at Moore Lane Park to witness the club's promotion to the Northern League in April 2009, but they still reach an impressive average of 200 per season, and that is testament to the football club and its product. There weren't many spontaneous dog walkers catching five or 10 minutes on Monday.
So while the few and isolated have taken to their laptops and smart phones to question the club via forums and Twitter over the past few days, the majority remain calm and collected and look ahead to the next adventure on the Newton Aycliffe journey. A few may, or have, voted with their feet but the majority let their heads and hearts do the thinking. Very wise.
It may get worse before it gets better for Oliver's side – Champions Spennymoor away is that very next adventure – but lest we not forget, as long as the fans of the club remember that football on the town started long before the Northern League opened its arms, Aycliffe will always have a core of dedicated, passionate and true supporters, still high on the drug, ready for the next chapter.
In the coming weeks, Aycliffe's football club needs it's fans more than ever. On Saturday, a small bunch will complete a sponsored walk to The Brewery Field to raise money for their club. See any of these weary souls and ink their sponsor forms for them – all donations will be greatly received.
Two weeks later it is hoped that over 300 cram into the Working Men's Club to support the club's Sportsman's Dinner with former Premier League star Ray Parlour. It promises to be a cracking evening of entertainment with places still available.
On the field there are vital home games with Dunston UTS – the FA Vase holders no less – and huge trips to both Durham and the rejuvenated Darlington – both of whom have fallen from loftier perches in recent years while Aycliffe have steadily climbed to meet them.
Big games aside, points will need to be won at the end of the month in a quickfire double-bill with Billingham Town and Penrith while the club's own FA Vase venture begins on September 15th.
One thing is certain with the choppy seas. There's no shortage of waves rolling in ready to be ridden! I, for one, can't wait to see where the next one takes us. Make sure you're part of it too.