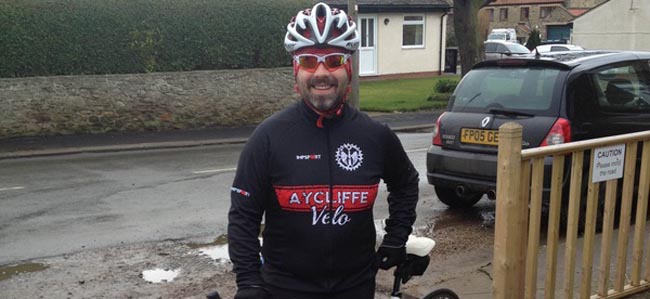 The wheels are already in motion for a new cycling club based in Newton Aycliffe.
Aycliffe Velo has been launched by bike enthusiasts from the town, with a goal of enabling cyclists of any ability to enjoy the sport.
A lot of behind-the-scenes work has already gone into setting the group up, but Aycliffe Velo will step up a gear when they host an open day at the Navy Club tomorrow (Saturday).
Velo has been set up by Chairman John Gillham, Treasurer Nathan Douglass, Secretary Chris Atkinson, Cyclocross co-ordinator Neil Ross, Mountain bike co-ordinator Justin Thompson and Welfare Officer Christine Mudd.
"Aycliffe Velo is a club with a difference," said Secretary Chris (pictured).
"We all started out with a goal and together we have helped each other in achieving what we thought was un-achievable.
"Whether you just looking for a leisure ride to keep up the fitness or hope to break a few PB's our team and members will help you get there and help you celebrate when you do!"
The open meeting at the Navy Club on Saturday starts at 12noon – cyclists are invited to attend to join or find out more.
More details about the club is at www.aycliffevelo.co.uk