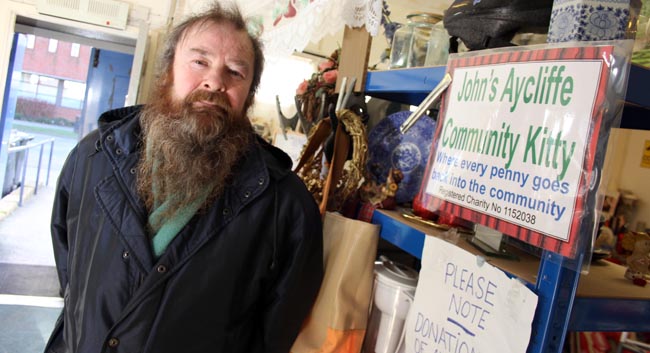 By Martin Walker
Honest John has raised literally tens of thousands of pounds for local charities and good causes in Newton Aycliffe.
The sum total currently stands at £102,000 in the last seven years.
A total of £21,850 was donated to 34 Aycliffe organisations in 2014, ranging from roller skating groups and youth football clubs to care homes and schools.
The fund included £1,000 to the town's Cricket Club to fund equipment for its youth Academy.
The Cricket Club's Secretary, Lee Weldon, told Aycliffe Today: "People like John don't grow on trees.
"He's such a gentleman, and evasive when it comes to praise. He doesn't seek publicity, he just genuinely has the community at heart.
"John's donation to the Cricket Club last year paid for a whole load of equipment which is used by all our young cricketers, aged from five to 17, and we can't thank him enough.
"He would be a massive miss to the community if he wasn't able to do what he does, unless they're able to find somewhere else for him."
Aycliffe Boxing Club also received £1,000 in 2014, and chairman of the club Les Gibson said: "It's amazing what Honest John does for Newton Aycliffe.
"He tries to do his bit for everyone and his donation to the boxing club made a huge difference, because we scrimp and save from one week to the next.
"But John even does his bit for some of the commercial entities on the town, the clubs that generate an income for the people who run them, because they need equipment or whatever and he doesn't like to say no.
"People don't believe, in this day and age, that someone would work like that for free, but he does it for his love of the community."
Of the £21,850 raised in 2014, Honest John's donations included:
Athena Gymnastics £1,000
1st NA Scouts £60
Children's Jam Club £500
Children's Jaffa Club £500
NA Junior Cricket Academy £1,000
NA Juniors FC £500
Simpasture Residents Association £250
Aycliffe Boxing Club £1,000
Aycliffe Cancer Support Group £600
NA Junior Falcons £1,100
Spartans Baseball Club £400
St Clare's Brownies £400
St Clare's Guides £400
Muay Thai Boxing Club £150
St Claire's Church £150
Woodham & Greenfield Year 11 Awards £550
St Clare's Drama Group £350
NA 1407 Air Cadets £800
Great Aycliffe Indoor Bowls Club £400
The Friends of West Park £300
NA Tugby Club £500
NA Football Club £200
Aycliffe Care Home Residents Fund £400
Bethany House Care Home Residents Fund £400
Defoe Court Care Home Residents Fund £400
Lindisfarne Care Home Residents Fund £400
Rose Lodge Care Home Residents Fund £400
NA Roller Skating Club £600
Waterpolo Club £500
NA Boys Brigade £400
Heighington Boys AFC £600
ROC Solid £1,000
NA Women's Institute £400
The Cubby Community Cafe £4,700
Total: £21,850
Anyone who is able to help Honest John can contact him on 01325 326630 between 5pm and 7.30pm.