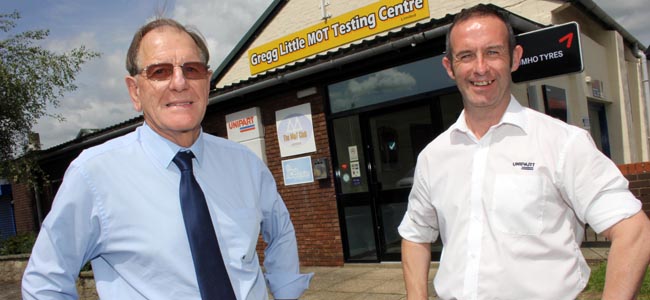 By Martin Walker
Gregg Little Testing Centre is celebrating the 25th anniversary of a partnership with a leading national network of car parts which stands the family firm out from the rest.
Gregg Little started his company in Newton Aycliffe back in 1989, with 18 years' motor trade experience already in his locker.
Upon opening Gregg Little Testing Centre 25 years ago, he signed up to the Unipart scheme and has prided himself on delivering a top quality service to every customer ever since.
His old-fashioned ethos is synonymous with Unipart's pledge to customers – to deliver guaranteed customer satisfaction.
Unipart has 165 branches nationwide, with more than 700 independent garages affiliated as Unipart Car Centres.
Gregg says: "It's a fantastic concept and something that has formed the backbone of our business for a quarter of a century.
"I started out in business some 40 years ago after leaving the coal mines so I have an old-fashioned work ethic, to get the job done whatever.
"Some people and businesses these days, say there's alway's a tomorrow, but I say that doesn't wash with customers or me, we like to respond rapidly to keep people mobile"
There are several benefits of choosing a Unipart Car Centre:
• It carries a nationwide guarantee.
• It has more than 700 vetted and approved independent garages nationwide.
• It has a parts and labour warranty.
• It offers a Customer Service Plea.
• It offers expert servicing and repairs to all makes and models.
Michael Howe, pictured (above) with Gregg Little, is Business Development Manager for Unipart, covering the County Durham, Teesside and Sunderland areas.
He said: "Unipart car centres have a strong focus on great customer care and are highly-recommended by our customers, with over 15 years of customer satisfaction.
"Our network of independent garages offer peace of mind and great value for money to motorists every day.
"Whether you drive a Smart Car or an SUV, we offer the same high standards of customer services for all makes and models of cars, MOTs, testing, servicing and repairs.
"Many of our car centres also offer extra services, such as courtesy car collections and deliveries."
Unipart Car Centres are supported by Unipart Automotive, which offers original equipment but matching offer and guarantee on all service parts.
"This means our parts are compatible in quality to the manufacturers' own parts," added Michael.
"Every Unipart Car Centre has to be registered to the motor industry code of conduct. This ensures that standards are consistent across the country, creating a national network of independently-audited garages, combined with a national guarantee, which gives customers the confidence."
There are other major pluses to taking your car to a Unipart Car Centre, too.
Michael adds: "If a car is repaired here and fitted with Unipart parts, if that customer is on holiday in Cornwall, London or wherever, and something happens to that vehicle, they can take their car to another Unipart Car Centre.
"We can also look after fleets of cars for businesses and those cars can be repaired by our centres wherever they are in the country."
• For all your motoring needs, from MOT's to services and repairs, give Gregg Little Testing Centre a call today on 01325 321621.