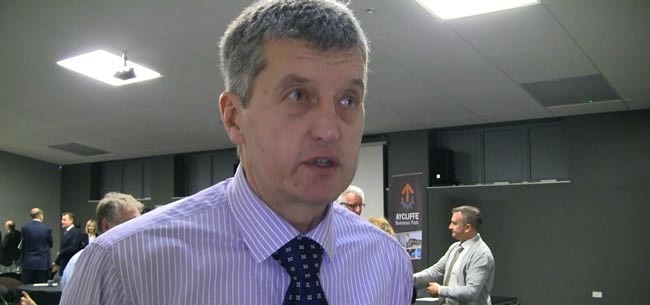 By Martin Walker
One of Aycliffe Business Park's biggest companies admits the park will be "stronger together", and hopes to see more big firms getting involved with the business community.
Paul Stiller, the managing director of Stiller Warehousing and Distribution, is impressed by the steering group of the Aycliffe Business Park Community (ABPC).
More than 60 businesses turned out for the ABPC's first birthday event at the Xcel Centre earlier today (Friday), which has been hailed a huge success.
Business Durham managing director Simon Goon talked about exciting opportunities for businesses to have a real say in how they can shape the future of Aycliffe Business Park.
Stiller employs 115 people on the park and recently announced its turnover had increased to £10.5m.
In a Video Interview, Mr Stiller told Aycliffe Today: "I think there's a real determination to set up some initiatives, to help everyone's business grow.
"There's a definite feeling of 'we're stronger together'. I liked some of the suggestions put forward for steering groups to talk about energy consumption, security, funding, training and employment – all of the issues that every business faces.
"There's absolutely no doubt that if we form ourselves into real active, can-do groups, I think we can all benefit from that."
Hitachi Rail Europe and Ineos both attended Friday morning's event, but the steering group would like to see more involvement from the likes of Gestamp Tallent, 3M, PWS, Palram and Husqvarna, which would give them an even stronger voice to make things happen.
Mr Stiller added: "I think it's important to see every size of business (getting involved), particularly the larger companies.
"Clearly they have greater influence, perhaps greater resources, and they can probably bring more to the table.
"We would welcome more initiative and more involvement from the bigger companies on the estate."
Click here to see Mr Stiller talking
Click here to find out more about Aycliffe Business Park Community