A near 30-year-old wealth management firm is aiming to develop into a younger market after rebranding its business with a modern new look – thanks to the help of an Aycliffe marketing agency.
Three Counties are independent financial advisors who relocated from Newcastle City Centre to Lambton Park Estate in Bournmoor, County Durham, four years ago.
After developing a strong and loyal client base over the last three decades, Three Counties is now aiming to grow the company after rebranding its image and launching an impressive new website, which is more user-friendly and mobile-responsive.
The company, founded by Chairman Peter West in 1989, specialising in financial planning, corporate planning and investment management, currently employs 11 people and is aiming to create at least two new roles in the coming months.
The firm has recently been given a boost after a brand overhaul by Aycliffe-based Thrive Marketing.
Director Andrew Alexander said: "We're really excited about Three Counties rebrand which very much combines our traditional values with a forward-looking approach.
"We have a 30-year history but we're now looking ahead to the next 30 years. We're still offering traditional, face-to-face advice, combined with the latest technology.
"A lot of our business has traditionally been with an older demographic. As times have moved on we've recognised the need to develop a younger client base, who like to do much of their business online.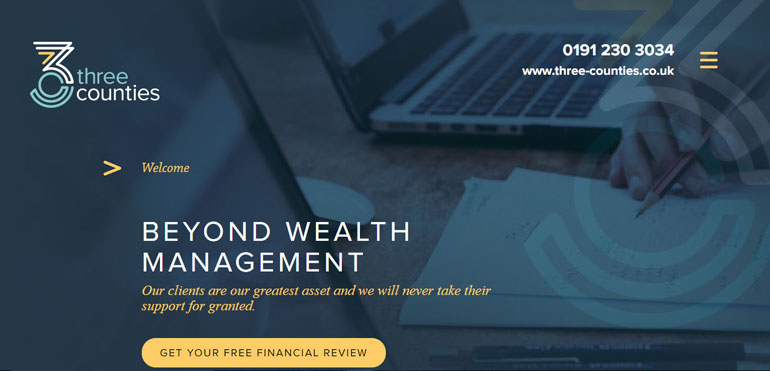 "We now have a much more modern looking, dynamic new website which is more user-friendly and mobile-responsive, making Three Counties look more appealing online to enable us to potentially attract a younger clientele."
The firm is aiming to add to its growing client base, the majority of which is in the North-East region.
"We're seeing a lot of organic growth," said Alexander. "We work closely with a lot of professionals across the region, including lawyers and accountants, so we're very much seen as a safe pair of hands.
"We're a North-East business fundamentally, our clients stretch from the borders down to North Yorkshire, but we're also taking on clients around the UK.
"We're very aware that what our clients require is consistency in their financial planning and advice, coupled with a first class investment management service. Our team of highly-skilled and experienced individuals provides a broad range of quality advice."
"We approach each and every one on an individual basis, taking the time to get to know them, their circumstances, their hopes, plans and aspirations and then work to implement a structured, transparent service to support these requirements.
"This approach has served Three Counties well and we have a large number of long standing clients whom we have worked with over many years, adapting to the many changes they have experienced in their lives.
"Three Counties' success is testament to the friendly, yet professional way in which our team deliver the highest quality, genuinely independent financial advice."
You can check out Three Counties' new website at three-counties.co.uk
• Pictured (above) is Three Counties directors Philippa West, David Stevens, Andrew Alexander, and David Heppell with founder and chairman Peter West, celebrating the firm's rebrand.