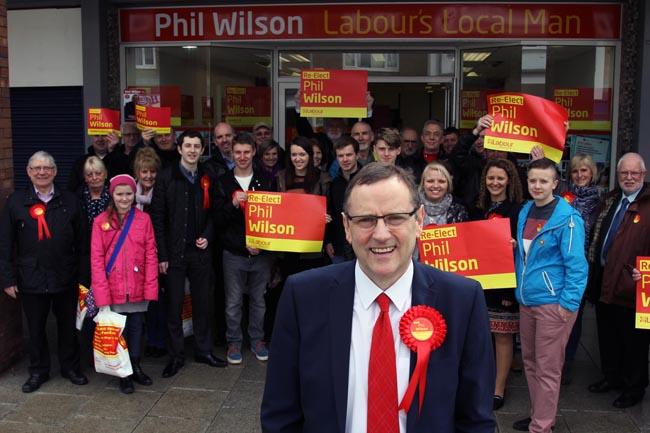 By Martin Walker
Phil Wilson says Newton Aycliffe has a lot to be proud of after some hugely positive developments for the town in recent years.
The Labour MP for Sedgefield was talking at the launch of his official 2015 general election campaign, held in Aycliffe town centre on Saturday morning.
Mr Wilson retained his Sedgefield seat in 2010 with 18,141 votes, a 8,696 majority over the Conservative candidate Neil Mahapatra.
At the next election, held on Thursday 7th May, he will face competition from Tory candidate Scott Wood, Stephen Glenn from the Liberal Democrats as well as UKIP's John Leathley.
In a Video Interview with Aycliffe Today, Mr Wilson said: "I want to be re-elected to continue the good work that hopefully people know I've done in Newton Aycliffe over the last five years.
"We've got the Hitachi factory here now, which is something that we had to campaign for really hard to make sure it was built, and the factory is going to be open later this year.
"We've got a University Technical College for our young people to ensure they can learn the trades and Apprenticeships to work in these new factories that are coming along.
"And there's also the town centre. There's still work ongoing, but I think it's a lot better now than it was five years ago. We're looking at different innovative ways of bringing retailers to the town.
"I think we're going from strength-to-strength and I think there's a great lot to be proud of in Newton Aycliffe, and I want to be able to continue the work over the next five years."