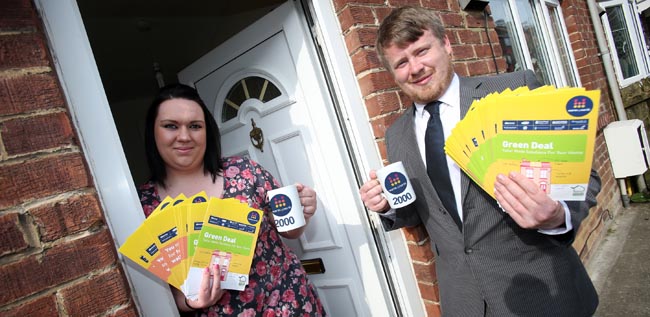 One of the UK's largest energy efficiency initiatives, Warm Up North, has now installed around £3 million worth of energy efficiency improvements in over 2,000 North East homes since the scheme started.
The completed work has reduced the carbon dioxide emissions of these properties by over 60,000 metric tonnes.
Launched in September 2013, Warm Up North's primary goal is to tackle fuel poverty in the North East by helping to lower energy bills and make it more affordable for residents to keep warm.
Endorsed by nine North East local authorities, including Durham County Council, the scheme offers a range of energy efficiency measures to eligible residents; from the installation of insulation, to renewable solutions and efficient boilers.
In addition to helping residents heat their homes for less Warm Up North has created over 40 direct jobs, with further recruitment opportunities to come. Additional employment benefits have been created through the supply chain, as 20 local SMEs are actively completing the installation of energy efficiency measures.
Ian Weatherston, head of Warm Up North, said: "Following the launch of Warm Up North last autumn we are very pleased to announce that we have now helped more than 2,000 North East households to benefit from warmer homes and lower bills.
"Working in partnership with our Local Authorities, residents can be confident that they will receive outstanding customer service from the Warm Up North team and that all works will be completed to the highest possible standard. 95% of our customers have expressed their high level of satisfaction at the service they have received, which is great to see.
"As well as helping people to save energy and save money, Warm Up North has also created 40 new direct job opportunities and is helping to stimulate work in the supply chain.
"We have recruited a network of over 20 local SMEs to install measures in the region's homes and expect to extend this network throughout the year."
One North East household to benefit from energy efficiency measures from Warm Up North is Charlotte Howe, 21, and her four-year-old son Aaron.
The young family, which lives in a rented property in County Durham, could now benefit from lower energy bills after their savvy landlord took advantage of the scheme.
Charlotte said: "After I told my landlord that we were having problems with keeping our home warm, he contacted Warm Up North, who couldn't have been more efficient.
"The assessor visited us the following day and within three working days all of the work was complete.
"The Warm Up North customer service team rang me at 9am on the morning of the install to make sure the installer had arrived and called again the following day at 9am to check I was happy with the completed work. I couldn't fault the attention to detail and thoughtfulness of the team.
"Our home is now so much warmer and I'm also looking forward to lower heating bills thanks to the new energy efficiency measures installed by Warm Up North.
"I would urge anyone who thinks that their home could be more energy efficient to get in touch with Warm Up North. The scheme has certainly helped our landlord to improve our home for the better."
Cllr Neil Foster, cabinet member for regeneration and economic development at Durham County Council, added: "Warm Up North is making a real difference to families, like Charlotte and her son, right across County Durham.
"As well as making people's home warmer and more comfortable, the scheme is also helping people to save money.
"I am very pleased that Charlotte and Aaron are among those who have been able to benefit from the Warm Up North scheme and l would urge anyone who thinks the scheme may be of help to them to get in touch."
For more information on Warm Up North and its range of energy efficiency measures call the team on free* phone 0800 294 8073 or visit www.warmupnorth.com.