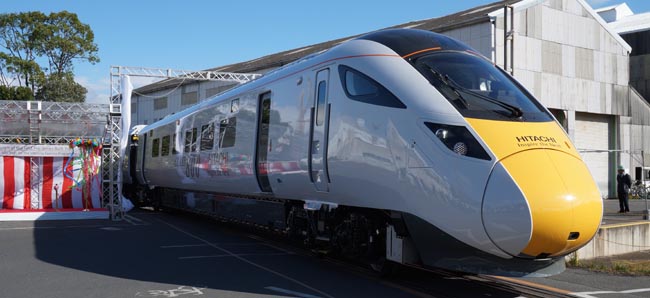 A consortium made up of Stagecoach and Virgin has won the franchise which will operate the Newton Aycliffe-built East Coast trains.
The firms promised to invest £140m in the route over eight years, and will pay the government £3.3bn for the contract.
The franchise, which covers the route between London and Edinburgh, has been publicly run since 2009.
The RMT union called the return of the franchise to the private sector "a national disgrace".
Other companies bidding to win the franchise included FirstGroup and a joint venture between Eurostar and French firm Keolis.
Transport Secretary Patrick McLoughlin said: "This is a fantastic deal for passengers and for staff on this vital route. It gives passengers more seats, more services and new trains.
"We are putting passengers at the heart of the service. I believe Stagecoach and Virgin will not only deliver for customers but also for the British taxpayer."
However, Mick Cash, RMT general secretary said the contract was "an act of utter betrayal".
He added: "The government has confirmed that it is bulldozing ahead with the re-privatisation of the East Coast Main Line despite all the figures showing that the current public sector operator is handing over a billion pounds back to the British people while delivering huge improvements in service and customer satisfaction."
The previous operator of the rail line, National Express, ran into financial difficulties, forcing the government to take control of the franchise.
The government says it always intended to return the route to the private sector, but transport unions have been pushing for the franchise to remain in public ownership.
Hitachi Rail Europe will begin assembling trains here in County Durham after its £82m factory on Aycliffe Business Park is completed in Autumn 2015, including the Intercity Express Programme's Class 800 series trains which are expected to start service on the East Coast mainline in 2018.