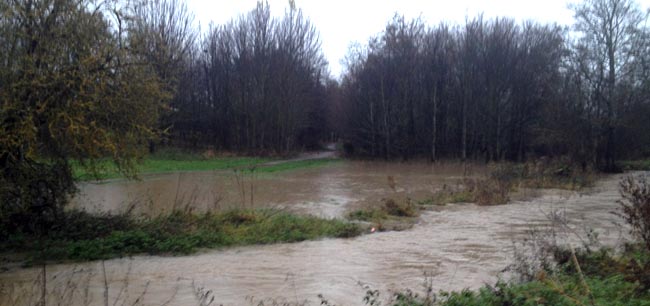 Parts of the River Skerne were over-flowing today as the rain continues to drench Newton Aycliffe.
The stretch of stream in Aycliffe, known locally as Woodham Burn, was severely swelled today.
The bridge at the bottom of Woodham Academy was impassable, as our picture below shows.
Go to our Video Vault to see a clip sent in by Aycliffe Today reader Mark Affleck.
Luckily the weather hasn't caused any serious problems for the town, and nearby Woodham Academy is open as usual.
Meanwhile, the local police team will be on duty throughout this evening.
PCSO Chris Noble told Aycliffe Today: "We haven't received a single call about any problems and hopefully that will remain the case tonight.
"We'll be out and about throughout the course of the evening, paying particular attention to the safety of roads, and we'd just advise members of the public to be careful in difficult, wet conditions."