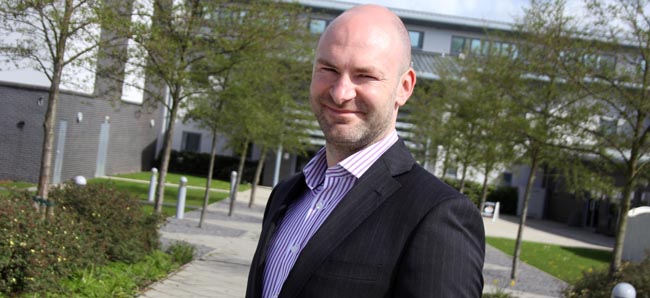 By Martin Walker
The University of Sunderland has outlined plans to help Newton Aycliffe firms grow their business with some exciting opportunities.
A host of resources are available to companies who either want to tap into graduate schemes or get advice from leading industry academics.
And the University of Sunderland's Business Development Manager, Mark Donnelly, says businesses can get the ball rolling with a simple, no-obligation conversation.
Mark recently attended a news and networking event on Aycliffe Business Park and has been impressed by both the steering group and the keen involvement shown by firms.
So much so, in fact, that he's volunteered his services to help administer the new task groups that have been set up.
Mark says the University of Sunderland – which is heading up the University Technical College (UTC) plans for the park along with Hitachi and Gestamp Tallent – is keen to work with Aycliffe firms of all shapes and sizes.
"I'm looking to spend a significant amount of time here on Aycliffe Business Park," says Mark.
"We want to start the conversation with businesses, to build links and hopefully start working together, which helps them to further their business and also give something back to the University.
"That could be through student projects, or through graduate employment opportunities.
"We want businesses to just find out more about us and we can start that with a very informal conversation.
"But practical things we may be able to help with could be linking them with current students, who can provide an extra pair of hands to do things they might not have the capacity to do – such as a marketing or IT project.
"Firms can also consider graduates. Some companies might not know how to go about the process of employing graduates – we can help them with that process and, in many cases, we can provide wage subsidies.
"We're looking at this as a long-term opportunity for the University to build real, sustainable links with businesses here in Newton Aycliffe, and we're really committed to that."
Some firms find that they're too busy dealing with everyday issues to take on the commitment of students or graduates – others see it as an obligation to help nurture tomorrow's talent – but there are potential key benefits involved from injecting youth into business.
"Students are the potential workforce of the future and supporting young people and their development is hugely important for business," says Mark.
"There are also genuine benefits of working with young people and bringing graduates into the workplace.
"They can bring fresh ideas, new ways of thinking and new knowledge that can be embedded into the business."
Mark also says Aycliffe firms have a genuine opportunity to get advice from industry experts.
He said: "We employ quite a number of very clever people, academics that can advise businesses in a variety of ways – researching new opportunity areas, new technology or just problem-solving, and applying research expertise to real-world business issues.
"We can also help businesses to tap into funding sources to help them take forward innovative ideas, and we have a good track record of helping firms to innovate."
Mark has been in a business development role with the University for 14 years after working in the private sector.
"In all of that time, I've worked closely with businesses, ranging from very small micro-businesses to large corporates," he adds.
"The essence of my job has always remained the same – it's about building strong and sustainable links between business and the University."
• To start your conversation with the University of Sunderland, call Mark Donnelly on 0191 515 3365 or email [email protected]