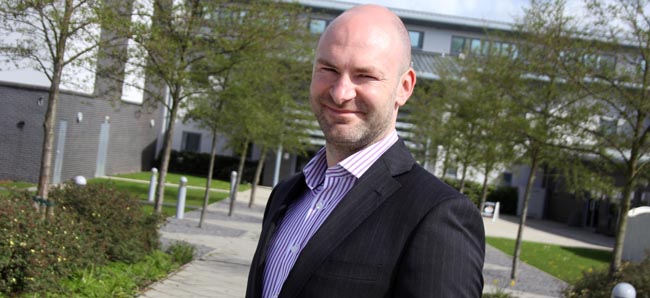 By Martin Walker
The University of Sunderland has created a new scheme designed specifically to offer firms on Aycliffe Business Park a free graduate scheme.
The Uni's Business Development Manager, Mark Donnelly, outlined details of the programme, dubbed Development in Newton Aycliffe (DNA), at Aycliffe Business Park's latest news and networking meeting.
He told Aycliffe Today: "We're creating a scheme specifically for businesses on Aycliffe Business Park, because we want to understand the DNA of the companies that are here.
"We want to create connections with small businesses, medium-sized businesses and large ones.
"We're looking for companies to give us project ideas for recent graduates as well as interns to come in from January and work for about three months on projects that companies want to take forward.
"The projects can span a range of skill sets, from journalism, media or design to English or History.
"We're looking for great ideas from companies and we'll match them with graduates."
The University of Sunderland – which is heading up the University Technical College (UTC) plans for the park along with Hitachi and Gestamp Tallent – announced plans to build relationships with Aycliffe businesses in an exclusive Aycliffe Today Business feature earlier in the summer.
And Aycliffe Today were one of the first businesses to work with the University, enlisting the help of student journalist Zoe Skerrett during a highly-successful month-long internship programme.
Mr Donnelly added: "We're looking to set up these internships and create great relationships and help businesses in Aycliffe to access young talent.
"Aycliffe Business Park is important to the University, and this is a marker I think that we're looking to have a presence here."
Click here to see our short Video feature with Mr Donnelly.
• To start your conversation with the University of Sunderland, call Mark Donnelly on 0191 515 3365 or email [email protected]