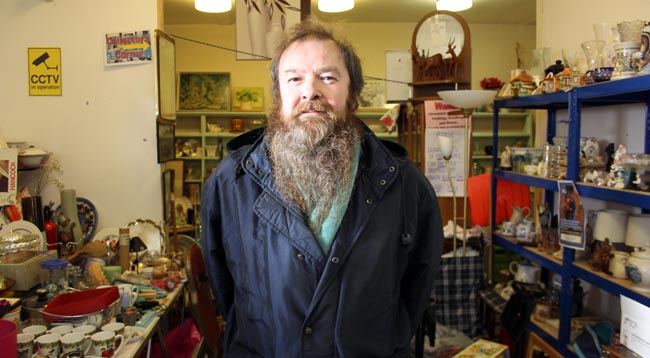 By Martin Walker
Charities and voluntary groups in Newton Aycliffe could lose out to the tune of £20,000 a year if The Cubby community cafe can't be relocated this year.
Durham County Council issued notice to The Cubby after it sold the land to developers – and the popular cafe must find new premises by October of this year.
Along with it will go "Honest" John Hilton's bric-a-brac stall, which has raised an enormous £102,000 in the last seven years.
Durham Council has told Aycliffe Today it is working with The Cubby to try to find an alternative location.
But there is a real threat Honest John could be without a venue that has done so much for good causes.
WHAT WOULD WE DO WITHOUT HONEST JOHN?
Honest John, 63, a former musician who has lived in Aycliffe for 44 years, was initially based in the town centre's market but moved to The Cubby on Greenwell Road in 2013 when work on the town centre started.
His registered charity, John's Aycliffe Community Kitty, currently rakes in around £400 a week for local organisations.
Trustees of Great Aycliffe Old People's Welfare Committee, a registered charity which owns The Cubby, are currently in talks with Durham County Council to find a new venue, which provides affordable meals for people of all ages.
John told us: "I don't know what's going to happen. It's going to be difficult to find somewhere else unless someone comes forward with a suggestion.
"I want to keep doing what I do because the groups and the kids need the money. I never realised when I first started doing this about all the groups that are out there. They need the money to keep doing what they do."
Aycliffe Town Councillor Bill Blenkinsopp, who runs The Cubby, said he was positive a solution would be found.
He said: "We are talking to Durham County Council in trying to find a new location and we're confident we'll be able to do that.
"But whatever happens and wherever we end up, there will always be a place for John."
Anyone who is able to help Honest John can contact him on 01325 326630 between 5pm and 7.30pm.
Click here to see a list of the groups which benefited from Honest John's donations in 2014.