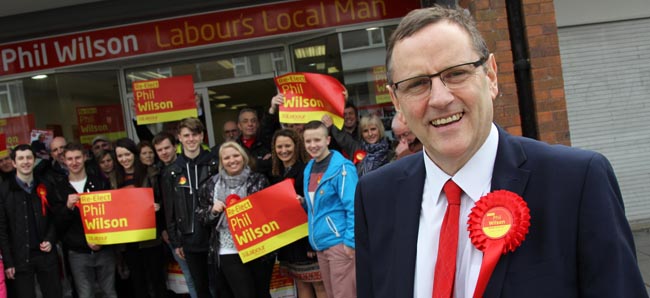 By Martin Walker
The growing popularity of the UK Independence Party seems to be reaching Newton Aycliffe after its Sedgefield candidate in this year's general election came second to Phil Wilson in an Aycliffe Today poll.
Following Thursday night's live leaders' debate, Aycliffe Today has published the results of a Sedgefield poll carried out this week.
The Labour candidate and Sedgefield's MP for the last eight years – Tony Blair's successor Phil Wilson (pictured above) – comfortably won with 57% of the votes.
But UKIP man John Leathley came second with a 26% share of the spoils, ahead of Tory candidate Scott Wood with just 16%.
The Liberal Democrat candidate, Stephen Glenn, came fourth with just 1%.
It isn't surprising to see Mr Wilson, whose Constituency and campaign offices are based in Aycliffe town centre, win the poll.
In the 2010 election, he had a 8,696 majority with 45% of the votes from the Sedgefield Constituency, with the Conservatives second on 23.5% and the Lib Dems third on 20%.
And while our Aycliffe Today poll won't be a full representation of the whole constituency, Newton Aycliffe is the largest town in the electoral area, with just under a third of Sedgefield's 67,000 electorate coming from Aycliffe (21,000 voters).
Mr Wilson told us: "My ambition for Aycliffe is for the people of Aycliffe. We have worked together since I became the MP for Sedgefield in 2007.
"We have brought Hitachi to the town, a University Technical College for our local young people and the town centre continues to improve.
"I would like to be re-elected to continue to work for the local area because, I know, by working together we can achieve much more. My ambition is for the local area because I'm from the local area."
UKIP's surge in popularity has been gaining momentum over the last two years, with Nigel Farage reportedly neck-and-neck with David Cameron, Ed Miliband and SNP leader Nicola Sturgeon following Thursday night's TV debate.
In 2010, UKIP's Sedgefield candidate Brian Gregory polled just 1,479 with 3.7% of the votes.
But on the evidence of our Aycliffe Today poll, its 2015 candidate John Leathley looks set to improve on that figure.
Mr Leathley told us: "We have been saying for a long time that politics cannot have a one party state in the North East.
"More and more people are realising that UKIP are the party for them and Aycliffe Today's poll gives a glimpse that people are starting to want something else.
"Given the fact we have never properly contested Sedgefield before the results are certainly interesting. The constituents are realising if you want change you have to go and vote for it."
Conservatives candidate Scott Wood said: "A number of Labour voters have told me they vote Labour because their parents and grandparents voted that way.
"I think people should vote on the circumstances that prevail today not what they were 50 years ago.
"The Conservatives have presided over an upturn of the British economy and if you want more jobs for yourself, family and friends – vote Conservative in May."
Liberal Democrats candidate for Sedgefield, Stephen Glenn, said the only poll that matters is the one on 7th May.
He added: "Between now and then I'll continue telling people how voting Liberal Democrat gives them a fairer economy and fairer society.
"In the leaders' debate only Nick Clegg promised the NHS the money they need with the cost being shouldered by those who can afford it.
"Along with our common sense rent-to-buy scheme to help out with housing and continuing to raise the personal tax threshold, I'm working to give opportunity to everyone.
"Liberal Democrats will cut less than the Conservatives and borrow less than Labour."
THE POLL RESULT
Phil Wilson (Labour) 57%
John Leathley (UKIP) 26%
Scott Wood (Conservatives) 16%
Stephen Glenn (Liberal Deomocrats) 1%
• Greg Robinson from the Green Party wasn't registered as an official candidate at the time of launching our poll. Aycliffe Today will include Mr Robinson in any future polls prior to the election on 7th May.