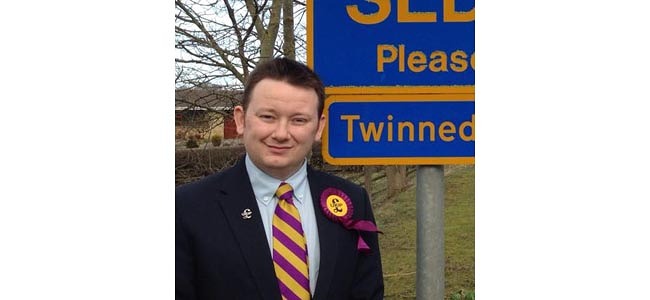 By Martin Walker
The UK Independence Party candidate for Sedgefield insists he's committed to the constituency, despite campaigning to become a councillor in Stockton at the same time.
John Leathley is standing for UKIP to become both an MP for Sedgefield in the General Election as well as a ward councillor for Stockton Borough Council.
But the 23-year-old has defended his decision to run for two positions, insisting he could juggle both jobs if elected.
Mr Leathley told Aycliffe Today: "A few years ago I came to Stockton to go to university. After my first year my son was born and I then needed a house for me and my new little family. The only place I could afford to live in was Hardwick in Stockton.
"I put myself forward for a council candidate because I believe in democracy. The area had amazing results (beating Labour) at the European elections and therefore it needed a candidate for the local elections in May 2015 to give people the chance to again vote for UKIP.
"The question posed to me about my chances in Sedgefield and my standing in Stockton locally is valid, but I assure you I intend to continue to fight for the people in Sedgefield.
"No one knows what the outcome will be in either election so anything can happen. I may win both and I may win non but giving people that vote is vital to democracy.
"It is worth noting that Tim Aker is an MEP and stood for council where he lived. He thought he could do both so why can't I?
"I am categorically 100% in there to win in Sedgefield but I need the people to help. At no point have I ever doubted my chances as the support is huge.
"The people of Sedgefield in all areas are telling me they want common sense policies and they want UKIP. If they go out and Vote UKIP they will get UKIP."
Durham County Council last week confirmed in a statement of nominated persons for the Sedgefield seat that Mr Leathley, of Stockton, was standing for UKIP.
It also revealed that current MP, Phil Wilson, is the only candidate out of the five who lives within the Sedgefield Constituency, with Liberal Democrat candidate Stephen Patrick Glenn residing in the North Down Constituency of Northern Ireland.
Greg William Robinson, from West Auckland, is standing for the Green Party; Scott Wood, from Darlington, for the Conservative Party; and Mr Wilson, of Trimdon, for the Labour Party.