Flytippers have been ordered to pay more than £1,500 after being caught dumping rubbish by Durham County Council's covert cameras – the brainchild of six Newton Aycliffe councillors.
Martin John Edge, 59, and Michael Benjamin Francis, 26, appeared before magistrates after being caught dumping waste at Heighington Lane in Aycliffe, as part of Operation Stop It.
And now both are hundreds of pounds the poorer after Edge pleaded guilty to leaving builders' rubble in the layby, and Francis admitted abandoning a bed base, household waste and black sacks.
They were both caught by a hidden camera purchased by six county councillors – Joan Grey, John Clare, Eddie Adam, Kate Hopper, Sarah Iveson and Jed Hillary – using Members Initiative Funds.
Martin John Edge, 59, of The Porch in Barton, North Yorkshire, pleaded guilty at Darlington Magistrates' Court to dumping builders' rubble and waste on May 10.
When a neighbourhood warden checked the camera a day later they saw an Inveco van pull into the layby. Edge climbed out and proceeded to fly tip.
During an interview under caution Edge admitted to leaving the waste but said that he didn't do it intentionally because he needed the toilet at the time and the rubbish was in his way.
In mitigation Edge admitted that he shouldn't have fly tipped the waste and once he had, that he should have picked it up.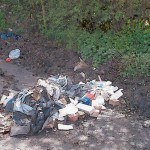 He was fined £300, with £328.90 costs, a court charge of £180 and a victim surcharge of £30.
A month later, on June 13, the covert camera filmed Michael Benjamin Francis, 26, of Butler Road in Newton Aycliffe, dumping a bed base, household waste and black sacks.
Francis pleaded guilty and in mitigation his solicitor said the 26-year-old overhead linesman had recently lost his father and was clearing his house for his sister to move into.
Francis was fined £200, ordered to pay £328.90 costs, a court charge of £180 and a victim surcharge of £20.
Durham County Council's neighbourhood protection manager Ian Hoult said: "This type of offence causes a wide range of problems and as a council we know it is important to members of the local community that we take positive action to reduce the impact of fly tipping."
Between April 2014 and March 2015 Durham County Council spent £432,562 dealing with over 6,800 incidents of fly tipping.
Ian said: "We are committed to tackling crimes which blight our environment, such as flytipping, dog fouling, littering and antisocial behaviour.
"Environmental crimes have a serious impact on our communities and where people live and we would remind everyone of their responsibilities when it comes to disposing of waste properly."
Operation Stop It was launched in November 2014 and sees Durham County Council is working in partnership with Durham Police, Crimestoppers and the Environment Agency to target those who illegally dump waste.
It also aims to ensure families understand their responsibility to make sure their rubbish is disposed of properly.
Since the campaign started it has resulted in a 31% decrease in flytipping in the county.
To report flytipping call 03000 26 1000 or visit www.durham.gov.uk. Alternatively contact the independent charity Crimestoppers, anonymously, on 0800 555 111.