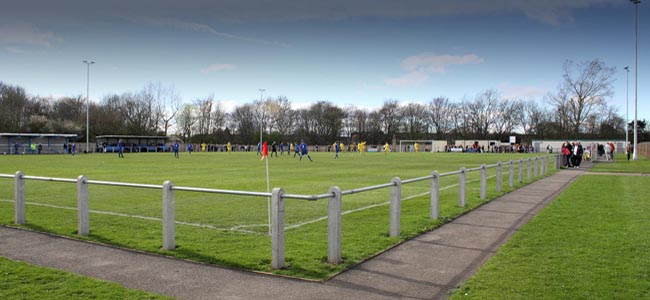 Newton Aycliffe FC have had a week to forget, with two heavy defeats plunging them right back into a relegation struggle with the final 10 games of the season approaching.
After a 5-1 defeat at home to Durham City last Wednesday, the Newtonians were beaten 4-1 at Consett on Saturday.
Possibly the only bright point to have emerged from the two losses has been the re-emergence of Jamie Owens, now over his broken ankle and able to take a seat on the bench for Saturday.
Boss Allan Oliver will be dearly hoping that he regains his goalscoring from to shoot Aycliffe to safety.
But in truth, it will be the other end of the field that is of more concern for Oliver, who has seen his side ship four, five, three, three and three goals in the last five games. The goal difference that was once looking like being worth a point to his team has suddenly plummeted to -14.
Saturday's game at Consett's new look ground offered Aycliffe a chance to quickly forget Wednesday night's home defeat to Durham City.
The Aycliffe line-up showed a number of changes as Oliver seeks the answers to his side's recent form. Goalkeeper Andrew Spence was injured during the Durham game, and so Owen Little, who only signed on Friday from Gateshead Rutherford replaced him between the stick.
And in an effort to offer a little more protection to the back four, Oliver switched to a 4-2-3-1 formation, with Dan Mitton and Stuart Owen designated to sit and protect the defence.
And early on, the signs were certainly promising. Mid way through the first half, Tom Atkinson continued his recent hot streak in front of goal as he again displayed his composed finishing skills to give Aycliffe a deserved lead.
And it was a lead the visitors were to hold until half-time. Oliver will have been delighted with the way his side performed in the opening period, and will have sent them out for the second half confident of picking up their first win on 2014.
But alas, the second half, as it was last week at Crook, was a different story.
Although Aycliffe held out until the hour mark, once they were breached, it was a sorry story.
After Mackay equalised for the hosts, Lakonga quickly put the Steelmen into the lead.
From that point on there was only likely to be one winner, and so it proved.
But Oliver will have been frustrated that once again, Aycliffe conceded two goals in close succession. Cuthbertson made the game 3-1 on 79 minutes, and before Aycliffe could regain their composure, Mackay had made it 4-1 just a minute later.
And so it finished. Aycliffe will be hoping to turn this alarming slump in form around on Tuesday, when they make the short trip to Heritage Park to face Bishop Auckland, who of course will feature several Aycliffe old boys in their ranks.