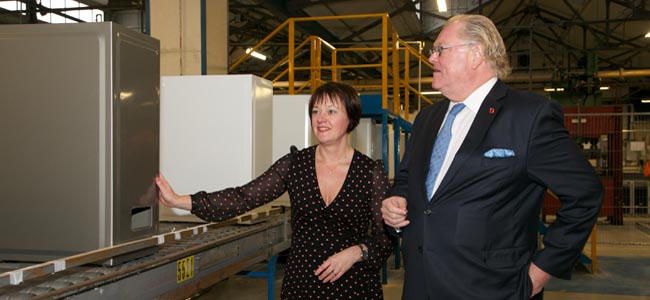 By Martin Walker
The TV star known as the "troubleshooter" was in Newton Aycliffe again today to launch Ebac's freezer range during a special event.
Former CBI Director General Lord Digby Jones returned to Ebac for the first time since filming BBC2's Digby Jones: The New Troubleshooter, in which he worked with Ebac as they looked to establish the new line.
As well as taking part in a ceremony to launch the factory – the former Radius Systems site on Aycliffe Business Park – and the Norfrost by Ebac range, Lord Jones took part in the special debate in front of an audience of business figures.
See our interview with Lord Jones in our Video Vault now
Ebac bought the Norfrost brand and equipment in 2013, and has set up the new factory, on Heighington Lane to breathe new life into the popular brand.
The freezers are already available to buy through Argos and Amazon.
"This is a major milestone in the Ebac Group, as well as in UK manufacturing, with the return to production of a very popular brand of appliance," said the firm's managing director Pamela Petty.
"These are very exciting times for Ebac and it is fantastic that Digby chose to come back and help us to celebrate.
"With the return of domestically manufactured chest freezers to the UK and our washing machine production facility set to be up and running soon, we feel it is a very interesting time to have the debate on the future of manufacturing.
"Here in the UK, we need to be making more things, whether that is high tech or low tech, high volume goods, but it will be interesting to hear what the rest of the panel think."
Alongside Lord Jones and Mrs Petty, the debate featured the new North-East regional director for the EEF – The Manufacturers' Organisation, Liz Mayes, and Dr Jon Helliwell, director of the Centre for Process Innovation, and was chaired by Graham Robb, North-East Chairman of the Institute of Directors.