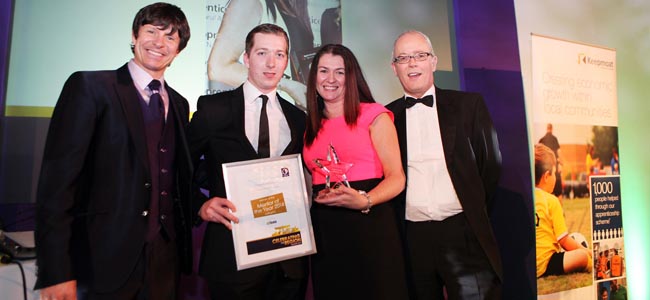 Homes and communities business livin is celebrating after achieving a trio of top awards for its apprenticeships and employability programmes.
Helen Johnson, livin futures manager for livin was named coach/mentor of the year at the Chartered Institute of Housing (CIH) North East awards this month capping a remarkable year for the livin futures programme.
Over the past 12 months livin has been listed in the prestigious Top 100 Apprentice Employers list and had one of its apprentices honoured as Business Apprentices of the Year as part of the South Durham Business Awards.
Helen Johnson, livin futures manager, said: "Over the past four years livin futures has grown into a comprehensive employability programme supporting hundreds of local people of all ages and backgrounds.
"I am delighted to have won coach/mentor of the year but it really would not have been possible without the help and support from all of our partners and of course the enthusiasm and determination of the people that we help through our various programmes."
CIH judges praised Helen's ability to deliver intensive support to help hundreds of people overcome the many barriers to employment.
Jill Haley, chair, Chartered Institute of Housing North East said: "With such a diverse client group, Helen's submission demonstrated her ability to call on not just her extensive skills and experience as a qualified coach but also on her personal qualities and her natural empathy to connect with people.
"The impact the programme has made in a short period of time is testament to Helen and it is clear she goes above and beyond, to make positive life changing results for individuals and their families."
livin futures apprenticeship vacancies will be advertised soon to find out more visit livin.co.uk/futures
• Pictured (above) is winner Helen Johnson with livin futures business apprentice of the year John Greenwood picking up the award presented by host Steve Walls and award sponsor Keith Loraine, Group Chief Executive at Isos.