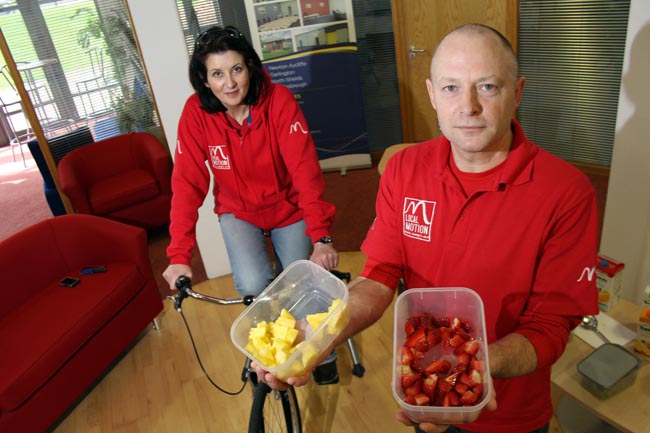 Pedal power has been taken to another level as a new exciting and motivating bicycle of a very different kind has arrived on Aycliffe Business Park.
As part of the Local Motion project, The Smoothie Bike is offering the experience of cycling with a healthy delicious and nutritious reward through creating your very own smoothie as you pedal.
Local Motion Travel Ranger Steve Shepperson (pictured above with Travel Ranger Francisca Guzman-Speight) said: "The Smoothie Bike experience is a very light hearted way to focus people's attention on nutrition and exercise.
"The custom-made bike has a smoothie machine attached to it which works when you start pedalling, you can take as long as you want to and enjoy the reward of a tasty treat when you have finished; it's great fun!
"Exercise doesn't have to be hard work it can be enjoyable too and already the Smoothie Bike has got people talking about exercise and healthy eating."
Local Motion is an exciting project promoting the health benefits of active travel in the areas of Aycliffe, Shildon and Bishop Auckland. The aim is to encourage workers to leave the car at home and get active while having a positive impact on the environment, health and pocket.
Local Motion is funded by the Department for Transport's Local Sustainable Transport Fund and is supported by Durham County and Darlington Borough councils, and also works in partnership with the NHS and leading charity Sustrans.
As part of the project the Smoothie Bike recently spent a day at Evans Easyspace on the business park.
Centre Manager Vanessa Wood said: "It was amazing to see people's reaction to the bike, it raised quite a few smiles and it was a really positive day, it created a great team spirit with work colleagues who were urging each other on to have a go.
"It really got people talking about cycling which wouldn't normally happen but it did work because it was a different approach and it generated a lot of interest."
Cyclists can also have fun in creating their own unique smoothie by choosing from a variety of fresh fruit from the Local Motion team such as strawberries, grapes, kiwis, pineapple and oranges to name a few.
So far to date the Smoothie Bike has created over 100 smoothies on the park with plans to try and generate many many more.
Steve said: "People are starting to get to know me now on the park which is brilliant because we are keen to work with as many companies here as possible as part of the project.
"The whole idea is to try and get an understanding of what transport people are using to get to work and to introduce other methods and cycling is just one of them. But if we can show this to them in a fun and enjoyable way it makes it much more achievable for them."
Other services available as part of the Local Motion project include lunchtime walks, cycle to work challenges, walk to work challenge, cycle training, 'Doctor bike' sessions, 'Fit for Life' health checks, a driving simulator and the 'Watt bike challenge.
Vanessa said: "I fully support the project in encouraging clients here to think about their health and the environment as well. We have also had the Fit for Life health checks here recently for a day which was also a huge success and helped a lot of people.
"We are planning other events going forward and I think it is a great way to bring the people on the park together to engage and be involved in the project."
For further information on any of the services and to be part of the project or to request the Smoothie Bike experience please email Steve on [email protected]