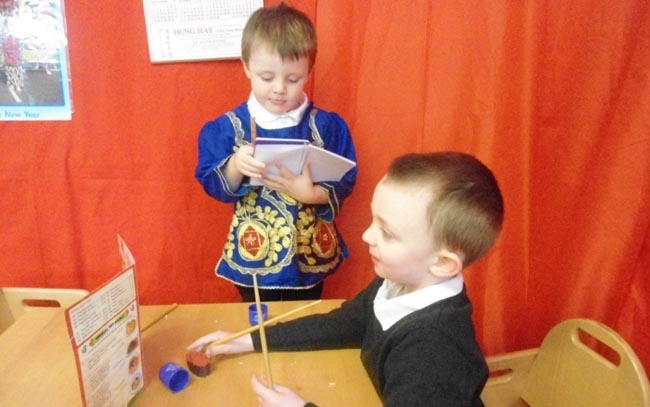 Newton Aycliffe tots have been enjoying a range of activities to celebrate the Chinese New Year.
The Year of the Horse began on January the 31st, and it is tradition in China to have celebrations take place over several weeks.
And Stephenson Way Nursery got into the Chinese spirit, converting an area of the nursery into a restaurant, decorated with paper lamps and traditional Chinese artwork.
Children enjoy a modified snack menu in this area, with savoury rice, noodles, spring rolls, prawn crackers and rice cakes have been on offer for the children to try. For extra authenticity, the children were challenged to eat their noodles with chopsticks!
Children were invited to dress up in traditional Chinese outfits provided by the nursery, to ensure that they looked the part whilst enjoying the celebrations.
Videos of actual Chinese New Year celebrations were shown to the children, who enjoyed the range of bright colours and choreographed movements involved in dragon dancing.
They could then put on their own celebration with children using instruments to create rhythms to dance to.
"The Chinese celebrations are an excellent example of how nursery staff combine directed play and fun activities to teach very young children about different cultures," said a spokesman for the school.
Stephenson Way Nursery also regularly invites parents in for "Stay n' Play" events, which are opportunities for parents to join their children in enjoying activities and projects they have been working on.