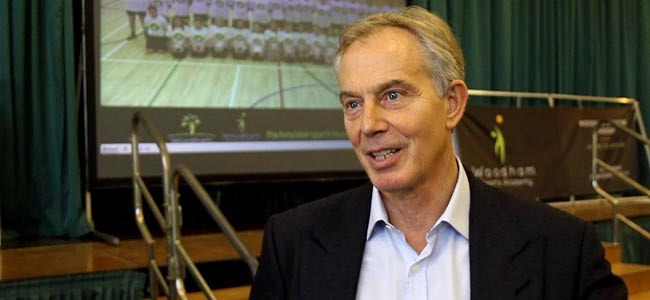 By Martin Walker
Tony Blair returned to Newton Aycliffe this week – and we brought you an exclusive video interview with the former Prime Minister.
Mr Blair dropped into Woodham Academy to officially launch a partnership between his Sports Foundation and Woodham's Sports Academy.
The ex-Sedgefield MP was accompanied by Stephen Miller, the triple gold medal winning Paralympian, who has joined forces with Mr Blair's foundation to deliver a sports leadership course at Woodham.
His foundation, set up in 2007, works exclusively in the North-East training club officials, referees and umpires. So far, more than 4,500 volunteers have passed through its hands.
Mr Blair, returning to a school he last visited 15 years ago when he was the local MP, made an impassioned plea for sport to be a central part of the curriculum.
In our exclusive interview, he told Aycliffe Today: "Sports is massively important to educating our young people.
"It's about health, education, team-work, life skills, attitude… It's really important, and I think we don't pay enough attention to the importance of sport in our society.

"Woodham Sports Academy, I can see this school really going places. It's going to be a great school for the future."
At Woodham, the foundation is part-funding sports leadership courses in tennis, basketball, baseball, cycling, athletics and cricket.
Woodham head teacher Christine Forsyth told us: "A third of our school are taking part in extra cirricular sport, and those students are achieving.
"There is a strong link between sport and academic achievement, and last year 85% of our Sports Academy students achieved five good GCSEs including English and Maths, which is 30% above the national average.
"That's the impact sport can play in education."
Mr Blair took a special motivational assembly at the school with Mr Miller, who held the world club throw record from 1997 to 2008.
"I always love coming back to the constituency and coming back to Aycliffe," added Mr Blair.
Go to our Video Vault to see our special Video feature.
TONY BLAIR VISITS WOODHAM ACADEMY – PICTURES